Date:
2016-12-29
Modified:
2021-12-22
WooCommerce Import: Step by Step Tutorial
WooCommerce import is hugely important for maintaining up-to-date product catalog and creating versatile assortment. Surely, having intuitive import tool at disposal eliminates tedious daily routines related to product updates and replaces manual listing inserts. Such a tool is implemented in Store Manager for WooCommerce.
In this post we are going to cover Import Wizard peculiarities and outline how WooCommerce import from .csv is organized.
Important
It is advised to accomplish WooCommerce database backup before global changes.
Uploading data via Store Manager, you are allowed to select import file source - HTTP URL to file, access details to FTP server file is disposed at, local folder or Google Spreadsheets.
WooCommerce import tool supports import from various file formats, .csv, .xml, .xls/.xlsx, .ods, .txt, .zip. If you have product data stored in one of files enumerated, you can flawlessly upload it with Store Manager for WooCommerce.
WooCommerce Import from .csv: How Should the File Look Like
Store Manager hasn't strict requirements to import file fields. When creating new products, you definitely will include the fields to maximally describe them: name, description, category merchandise will be placed to, feature image, price, SKU, stock, product type, visibility, etc. You will get product created having minimum details in the file, though you should always care about informative product catalog and enrich it with all necessary specifications.
When your WooCommerce import is dedicated to product renewing, you do not need to import all the related details, only product identifier and fields to be updated, for example SKU (identifier), price and description.
WooCommerce Import Instructions
To launch WooCommerce Import Wizard, navigate to product context menu or toolbar and hit "Import" data button.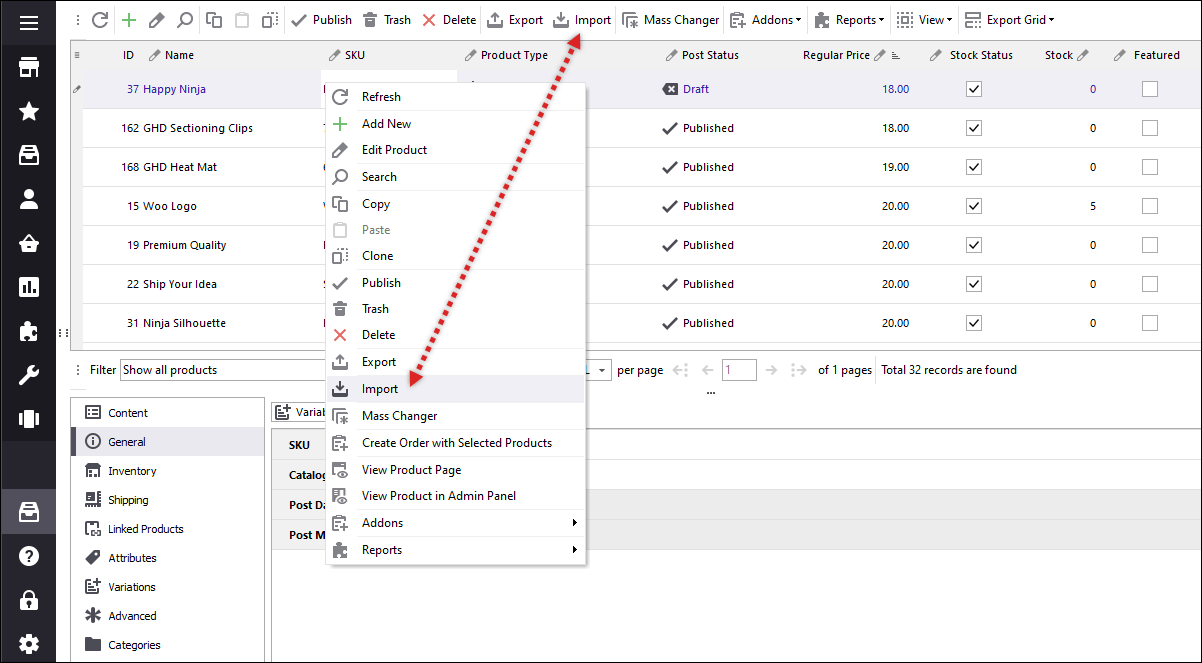 Navigation menu on the left side allows you to instantly access certain Wizard page: source selection, delimiter, field links or options. You are supposed to determine settings on each step to attain desired import outcomes.
Step 1. Source Selection
As it has been indicated above, Store Manager lets you import from local as well as external files. External file upload expects you to specify HTTP URL to it or connect to FTP server and load the file from it (server address, login, password, file name required). Uploading data stored locally, you should paste path to it (browse local folder and choose import file).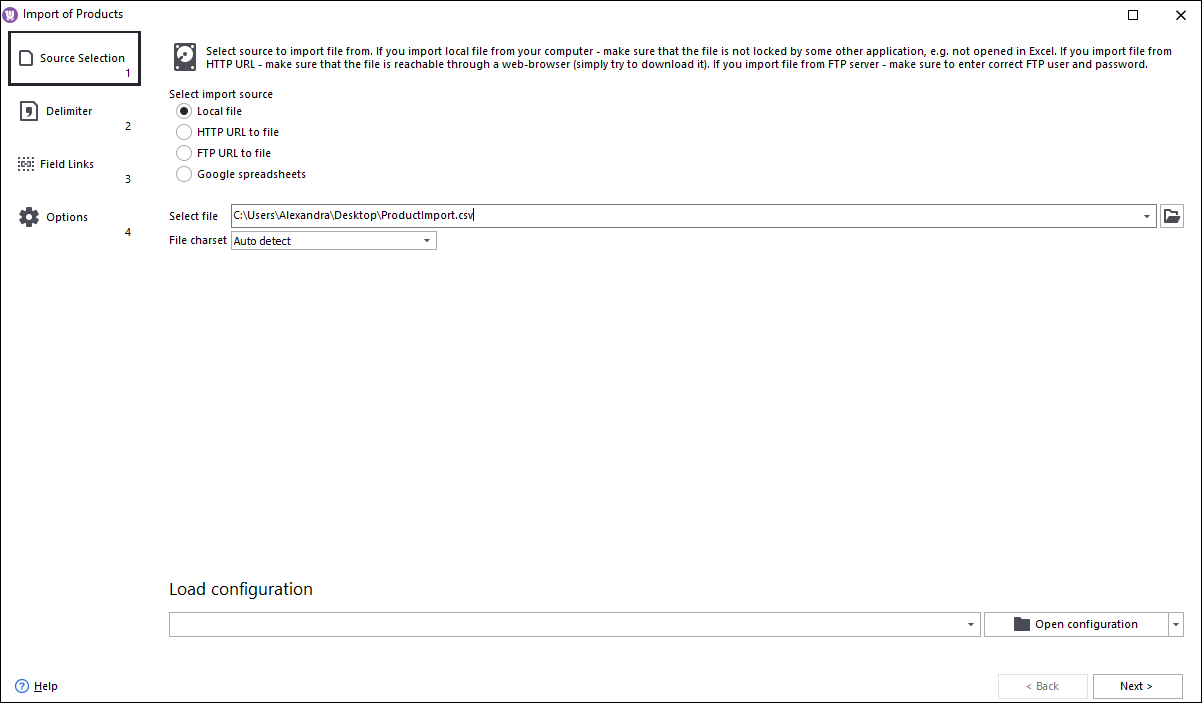 Step 2. Delimiters
Data in .csv file are detached by delimiters and on this step you should indicate what exactly delimiters are used in your case. If incorrect separators are provided, data will be messed and you won't be able to proceed with WooCommerce import from .csv.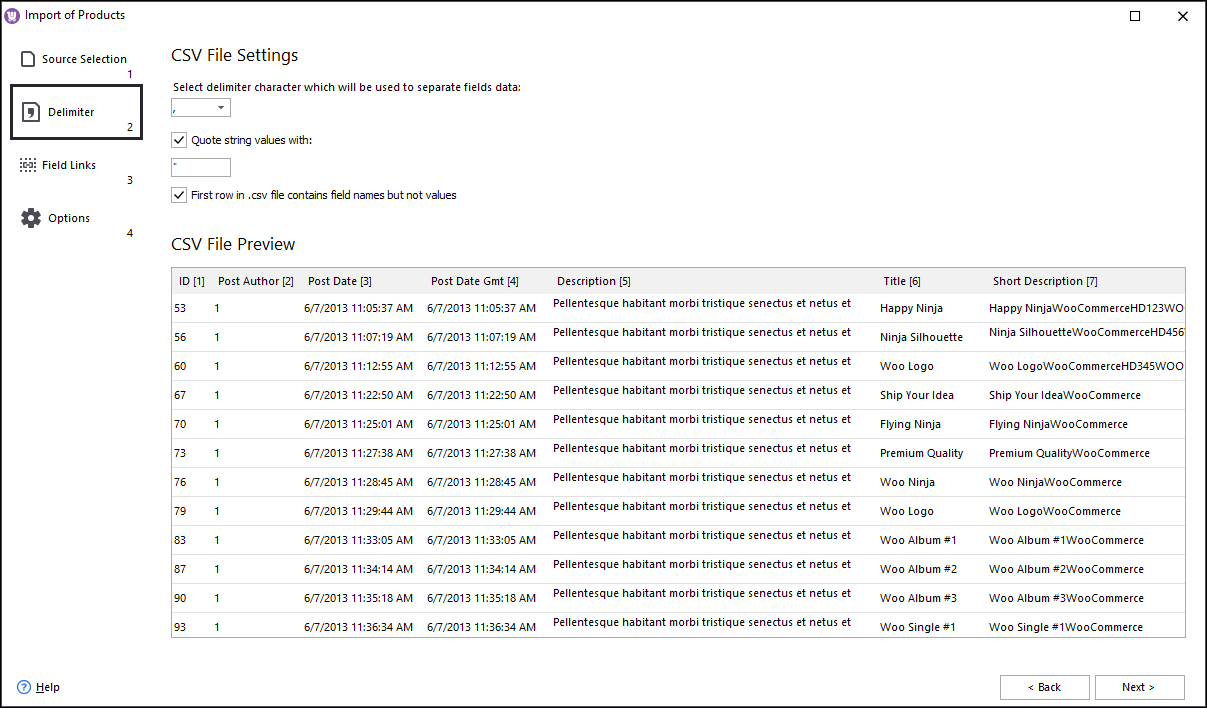 Step 3. Field Links
Another precondition of efficient WooCommerce import is field associations determining. To be more precise, file columns must be assigned to proper WooCommerce database fields. This page contains two sections, one enumerating database fields, another displaying file containing product data.
Beside each database table name you will find "source field" dropdown. Having expanded it you will get entire list of import file columns. Select the one to assign it to current database field.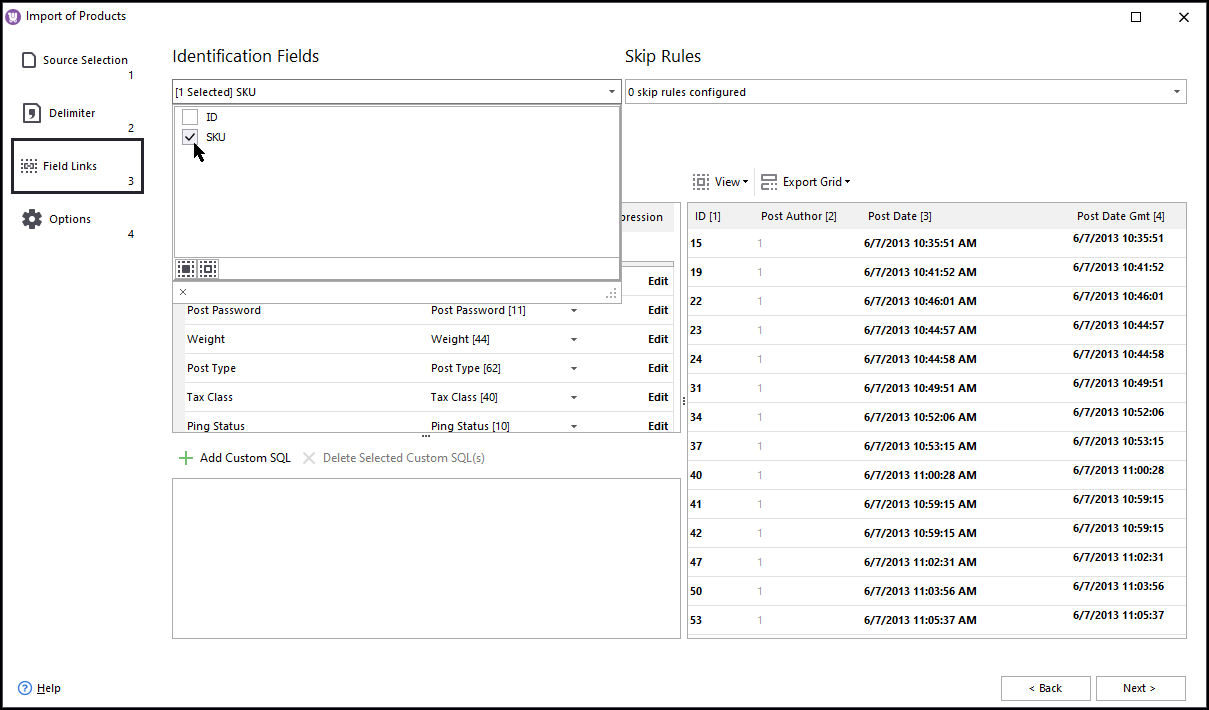 Important:
Imported items require identification. Product ID or SKU can be used for identification. Please take into consideration, IDs are used for product update only.
Product IDs are incremented by WooCoomerce system itself, Store Manager does not allow to force ID during import in order to ensure data integrity.
If your datafeed column names and database field names coincide, they can be mapped automatically via "Auto Link All" option.
Improper or missed values can be configured by means of SQL statements, added for this or that field via Expression Editor (press Edit beside necessary field).
Step 4. Options
Some additional WooCommerce import from .csv settings should be accomplished at this step.
Select WooCommerce import method.



Wizard displays the following import methods:
Add and Modify
Add Only
Modify Only
Just Add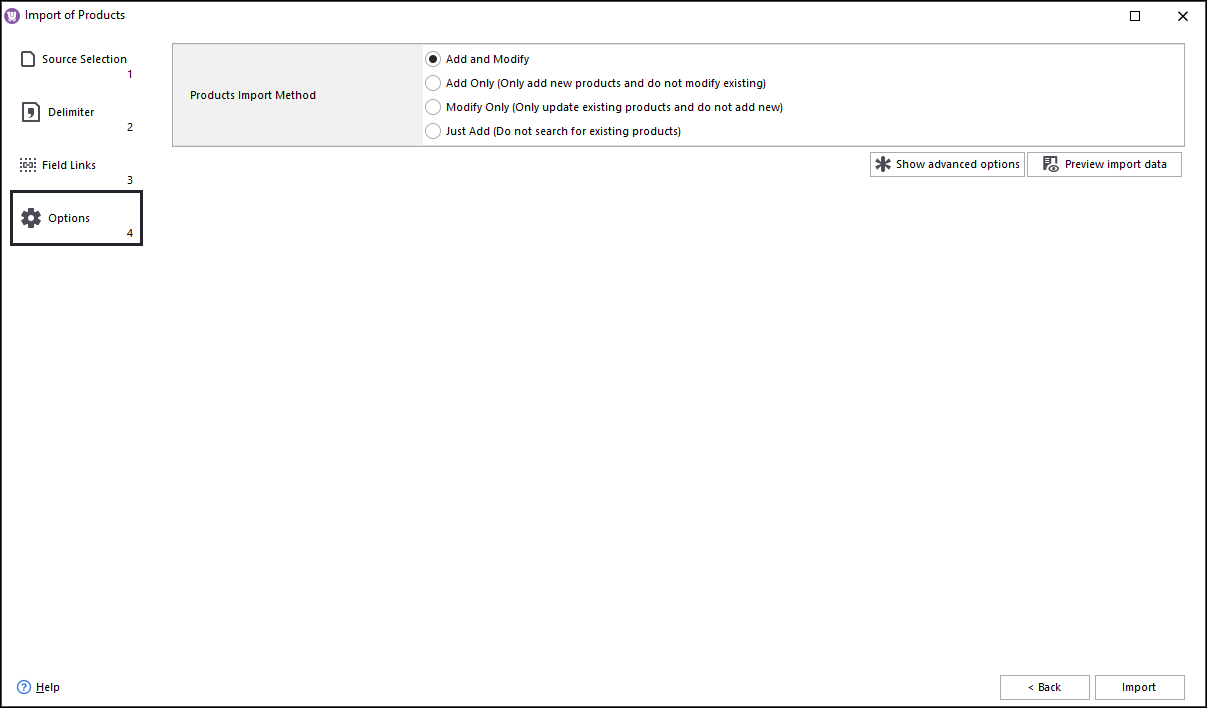 On condition that new merchandise are planned to be added within import and some existing need to be updated, you logically, should select "Add and Modify" method.


If file includes absolutely new product listings and the aim is to dispose them at your WooCommerce store for selling, choose Add Only method. If besides new products you have previously added to WooCommerce store wares that await updating and Add Only option is selected, no updates will be applied, these listings will be skipped and new items will be added only.


If the task is to change data for existing products, Modify Only method should be selected. Respectively, if you have new records in the file, they will not be imported.


Just Add method foresees creating new products only without checking whether these products already exist at WooCommerce.
Configure Advanced Options
At this step you must also consider advanced options, displaying after you press Show advanced options.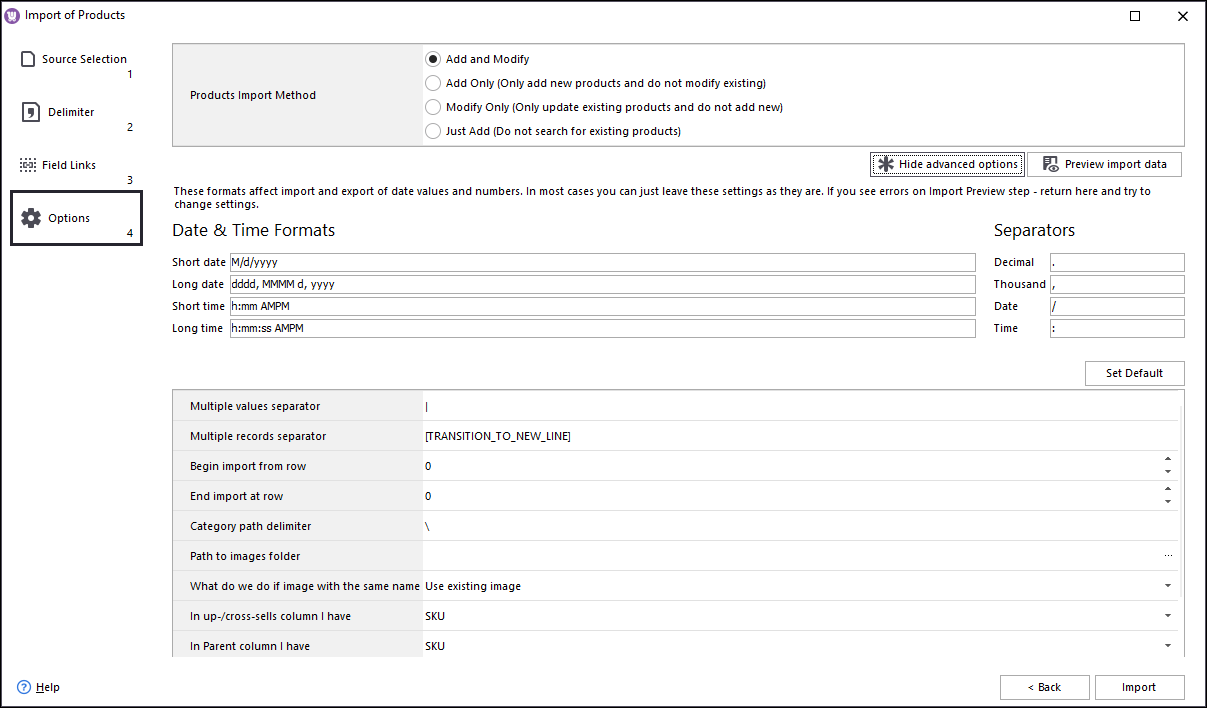 Multiple values separator - if some WooCommerce import file column contains several values, they should be detached by a separator. This very separator should be specified in the field.
Begin import from row/End import at row - you might need to import file partially, you may indicate initial and end row. Products listed in these rows will be imported only, the other will be ignored.
Category path delimiter - indicate what separator will be used to detach categories in category path.
Path to image folder - uploading product pictures, you are obliged to specify path to folder they are stored in at your computer
In up-/cross-sells column I have - mind this field when you want to link up-sell or cross-sell products in course of WooCommerce import

Preview data to be uploaded and confirm procedure pressing "Import" button below.




WooCommerce import from .csv being completed, you will get import logs, showing what changes have been implemented.

Use Store Manager for WooCommerce to Bulk Upload Products to Your Store

Get It Now




COMMENTS