WooCommerce Import Variable Products Tutorial
If your WooCommerce store sells variable products, you came across the right post. Here we are going to discuss how to bypass monotonous, time-consuming one by one variation configuring and fulfill WooCommerce import variable products.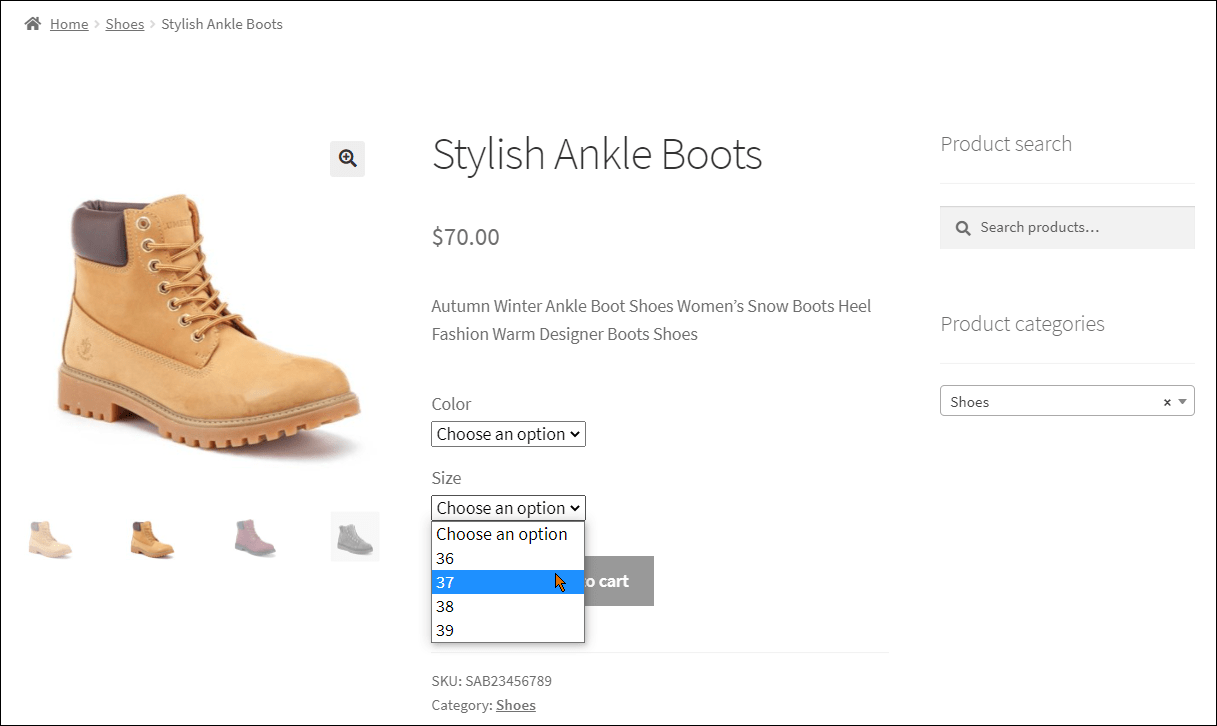 Store Manager for WooCommerce delivers approachable import tool, that allows to create or update product variations in quick way. This tutorial provides you detailed instructions on how Store Manager arranges import, what points should be considered and, of course, illustrates WooCommerce import variable products through screenshots.
WooCommerce Import Variable Products: Sample File
First and foremost, you should get ready with the file, WooCommerce variations will be imported from. What file structure pattern is required? Let's have a look at sample file, we use for WooCommerce import of variable products.
Please note we already have main variable product created and our aim is to add the variations, attach them to the main item. If you are adding new products, add other product specifications to the file (description, images, tags, etc). Sample file contains variations of ONE VARIABLE product.
What fields should the file contain and how should they be arranged for variations to be created and linked to necessary parent product?
Important: Reading the File
The first two rows in the file stand for parent product, each next line contains WooCommerce product variation.
SKU (or ID for update only) - this column stands for product SKU. You have to identify products in the process of WooCommerce import variable products. Input SKU for parent product and each variation you are going to create.
Product type - differentiate main item and associated ones specifying 'variable' or 'variation' correspondingly for each record in the file.
Post status - to get variable product and its selections displayed at the storefront, provide 'publish' status for each.
Stock status - insert either 'In Stock' or 'Out of stock' for each item.
Manage stock - enable or disable quantity tracking for your variable product.
Attribute name - your WooCommerce variations depend on some product characteristics called attributes. In separate rows of this file column you should specify attributes used to create WooCommerce variations.
We need to create associated items varying in color and size. These attributes are specified actually for parent product within separate rows in 'Attribute name' column.
Attribute values - this column lists all the values of specific attribute that will be used for WooCommerce import variable product carrying out.



Values should be provided in the same row, attribute name is and separated by multiple value delimiter. The attribute 'Color' has the values red|ivory|black. Attribute 'Size' has the values small|medium|large. Both, attributes and their values, are specified for parent product.

Size/Color - these two columns contain all the combinations of attribute values that will represent selections for customers at the storefront. Each combination=separate row in WooCommerce import variable product file = product variation.
Regular Price - you can set price for WooCommerce variations providing values for them in this field of your import file.
Stock - indicate how many items of each associated product in stock you have.
Parent - to link simple products to main one, you should create relations. Specify parent product SKU for each associated simple item in the file.
WooCommerce Import Variable Products Performance
WooCommerce variation upload is fulfilled by means of product Import Wizard and embraces several steps, enumerated further.
Launch the Wizard (either from toolbar or from product context menu).



Import Wizard Launch for WooCommerce Variables Import



Specify what file will be used for WooCommerce import variable products selecting the one stored locally, providing HTTP or FTP URL to it in the Import Wizard.


Set up your import file delimiters, since these are necessary for data parsing and fortunate import accomplishing.



File Delimiters During Import of WooCommerce Variables



WooCommerce import variable products expects you to associate data you have in the file with suitable database fields. This correspondence is required for product import.



WooCommerce Variables Import Mapping Step




If titles of your file columns coincide with database fields you may use automapping and get them linked automatically. Contrariwise you have to manually link them to corresponding database fields.

Another important thing is to set product identifier, used to recognize products in the process of data import. Product ID is used for updating only, so if you are creating new products, consider SKU as identifier.

Options step of the Import Wizard expects you to determine settings that influence WooCommerce import variable products procedure.



WooCommerce Variable Products Import Options




Multiple value delimiter should be specified.

You have multiple attributes and values within one cell in the import file. They are detached by certain delimiter. Set this character as multiple value separator here.

Identify existing variations by this column -

in order to create variations in the process of WooCommerce import, you have to identify them. Choose either ID (for existing combination update only), SKU or parent.

What do we do with existing attributes? -

If you import products with variations, but these already exist at your store, you can either recreate variations for them or add new variations without removing current ones selecting appropriate option from the dropdown.

Once the settings are configured click 'Import' button to start variable product creation. Check import outcomes on the last wizard page. Afterwards see whether variations display in Store Manager.




Imported WooCommerce Variable Product in Store Manager




WooCommerce variations have been created, they now display in product lower grid as we have configured in the import file.

Use Store Manager for WooCommerce to Import Variations

Get It Now



COMMENTS
Deborah Holmes • 10/31/2019
When using your product to create "new" products with "variations" how does WooCommerce assign the Variation ID? I have existing products with assigned variation IDs by WooCommerce, so how does your import product know where to start picking up the variation ID number?
I see how you import to create the new product but I do not see how the variation IDs are assigned to the variable products. One of our products has in excess of 800 variations.
Please advise.

WooCommerce Store Manager

Mod
Deborah Holmes
• 11/01/2019
Hello, Deborah!
Thank you for your question.
The variations IDs are being generated same as in the Admin Panel, that is, variations and products share the same IDs pool. When variations are being created specifically during product import - then firstly, Store Manager creates main products (with corresponding incremented IDs), then it adds variations (with corresponding incremented IDs).