Date:
2018-11-02
Modified:
2023-05-26
Operate Products and Orders with WooСommerce Amazon Integration
Managing an e-store, many merchants fall back upon different ways to widen their sales across channels and marketplaces, and Amazon is among the largest online retailers that suits these needs.
If you are a WooCommerce website owner, you might think about getting the tool, that will give a possibility to integrate your website with Amazon marketplace. So, in this article, we will review an Amazon Integration addon. The addon is built in Store Manager - the software that not only simplifies and accelerates routine operations in site management, but also offers fast and errorless association of WooCommerce-based shop with Amazon marketplace.
Do you need to export product listings to the marketplace, update and synchronize product-related details, operate order information on Amazon, and import orders from Amazon to WooCommerce?
Here are the steps to successfully perform mentioned operations with WooCommerce Amazon Integration:
Plugin is available for usage starting from Store Manager for WooCommerce version 1.15.0
To start working with Amazon Integration, you need to add your account.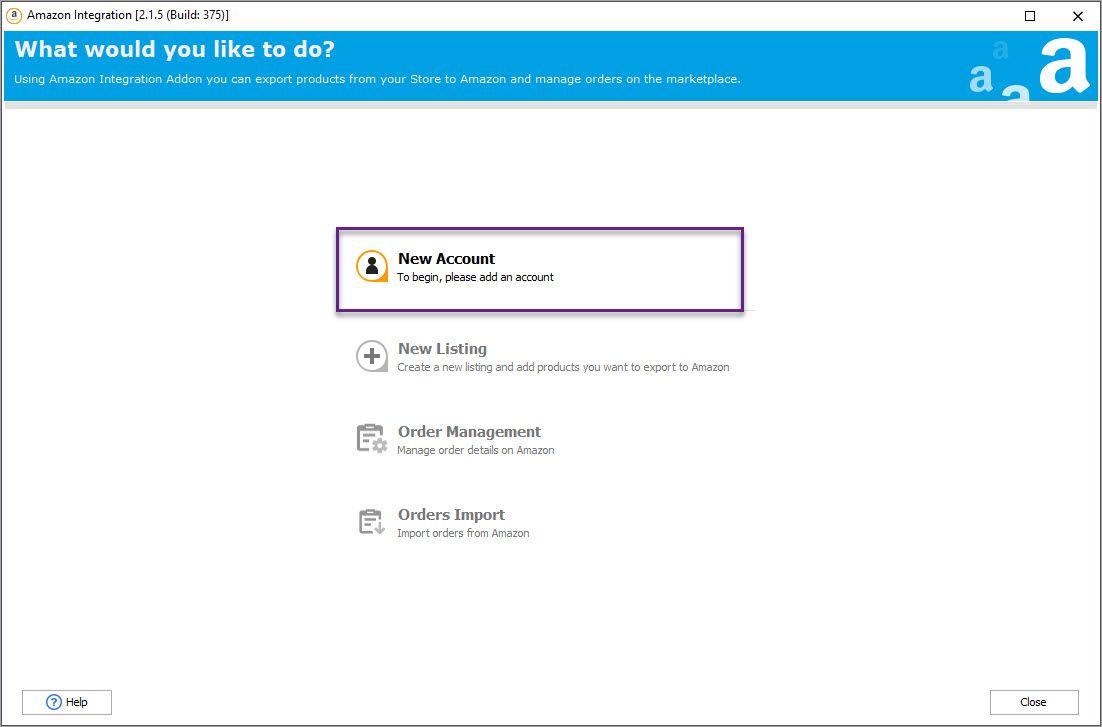 After you hit the "New Account" button, you will launch a window, where you have to fill in all the necessary account credentials: Email or mobile phone number and Password.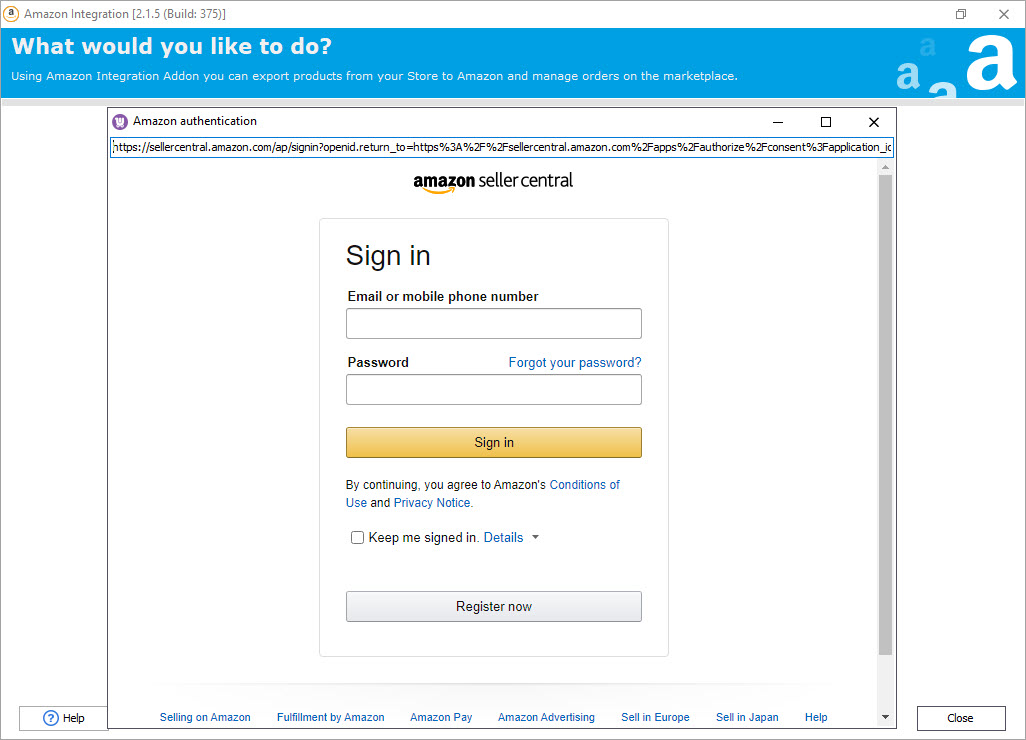 A full guide on how to enter your Amazon Account via WooCommerce Amazon Integration can be checked here - Login Amazon Celler Account. Or use the embedded "instructions" button in the New Account window.
Note: Store Manager for WooCommerce Amazon Integration requires Amazon Professional selling plan.
When you fill in all the needed credentials, hit OK and you will receive the confirmation message about successful login.
After the registration, you will see a window with the possible operations that can be performed with WooCommerce Amazon Integration and your account.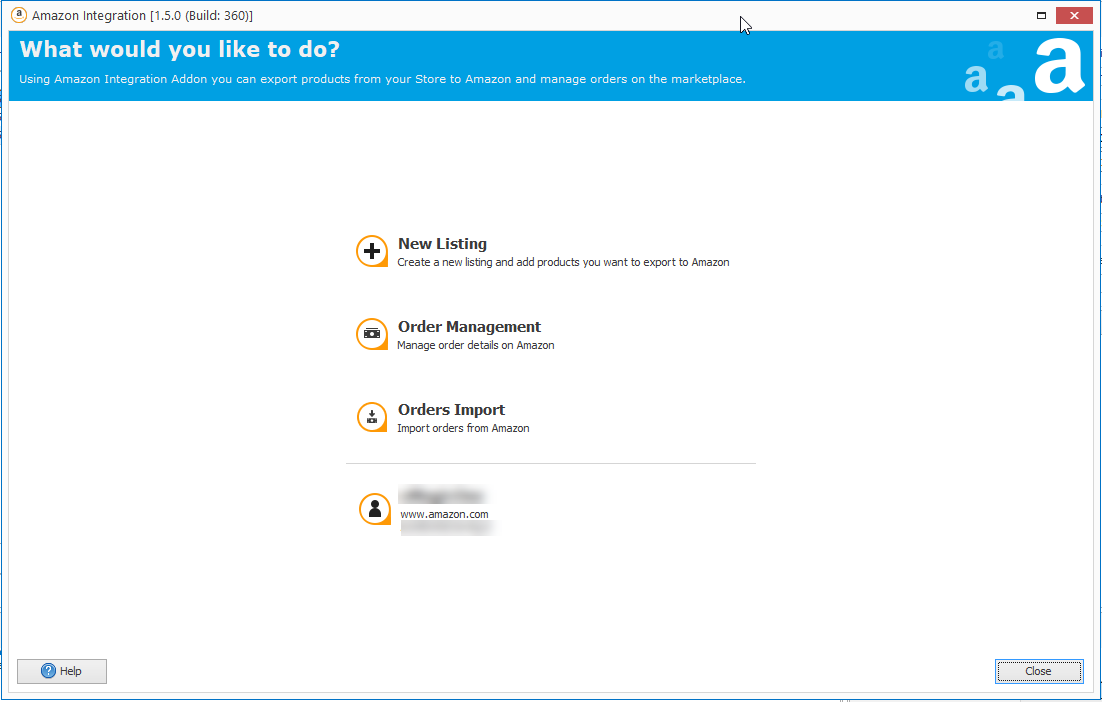 Note: The possibility to import Amazon orders to the WooCommerce store is available starting from Store Manager for WooCommerce v.1.24.0.1129.
When you hover over the account field, you will see the possible actions that can be made over it: add new account, edit existing one and delete it.
Now, we can proceed with products and orders management.
WooCommerce Amazon Integration addon combines 2 processes that can be performed to the marketplace: export and synchronization.
To start adding new items to your marketplace account - hit "New Listing" button to start creating a new merchandise listing.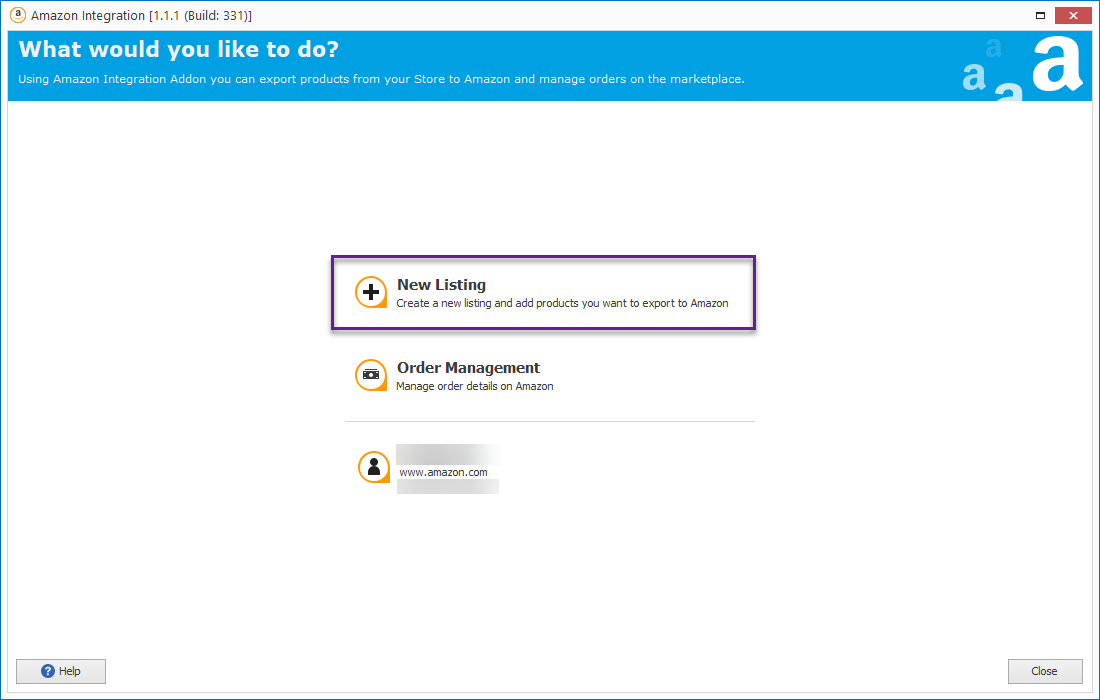 The window that opens next, offers to name your newly added listing, save it or load settings from file.
You should tick the checkboxes, depending on the data you want to publish to marketplace - inventory, prices, images or shipping options.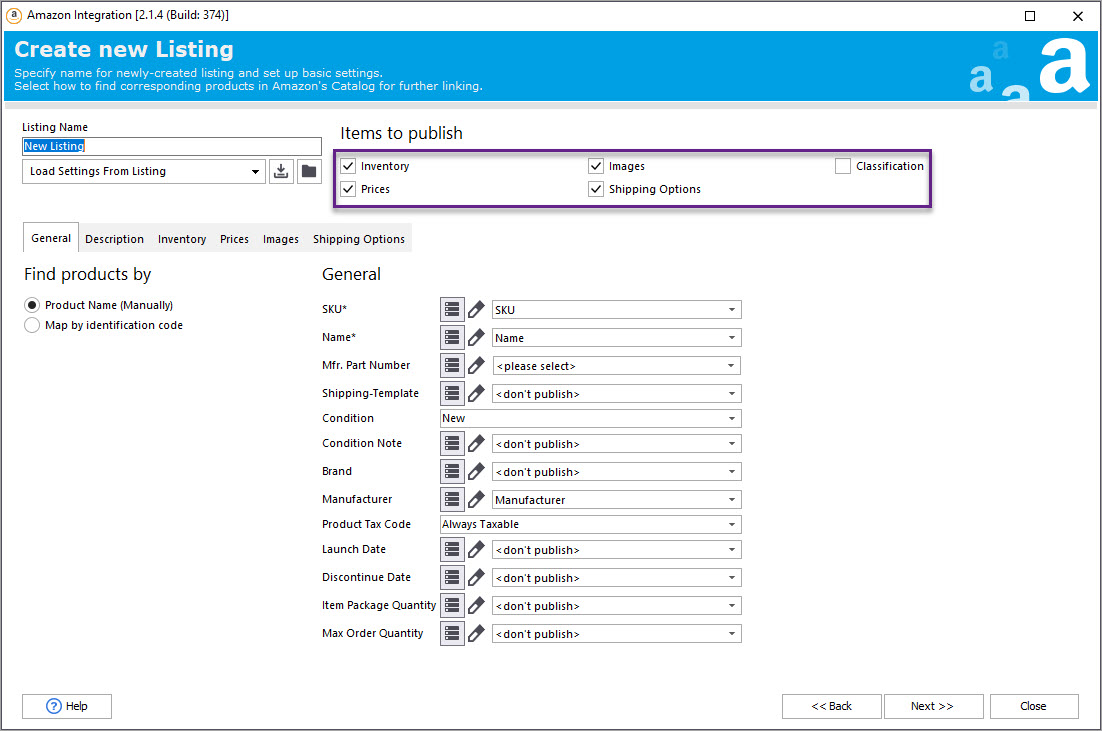 Whenever you enable particular entity - you will see the appeared tab with the related data for filling. For example, we have enabled two of them: inventory and images, so you can see there are two tabs emerged.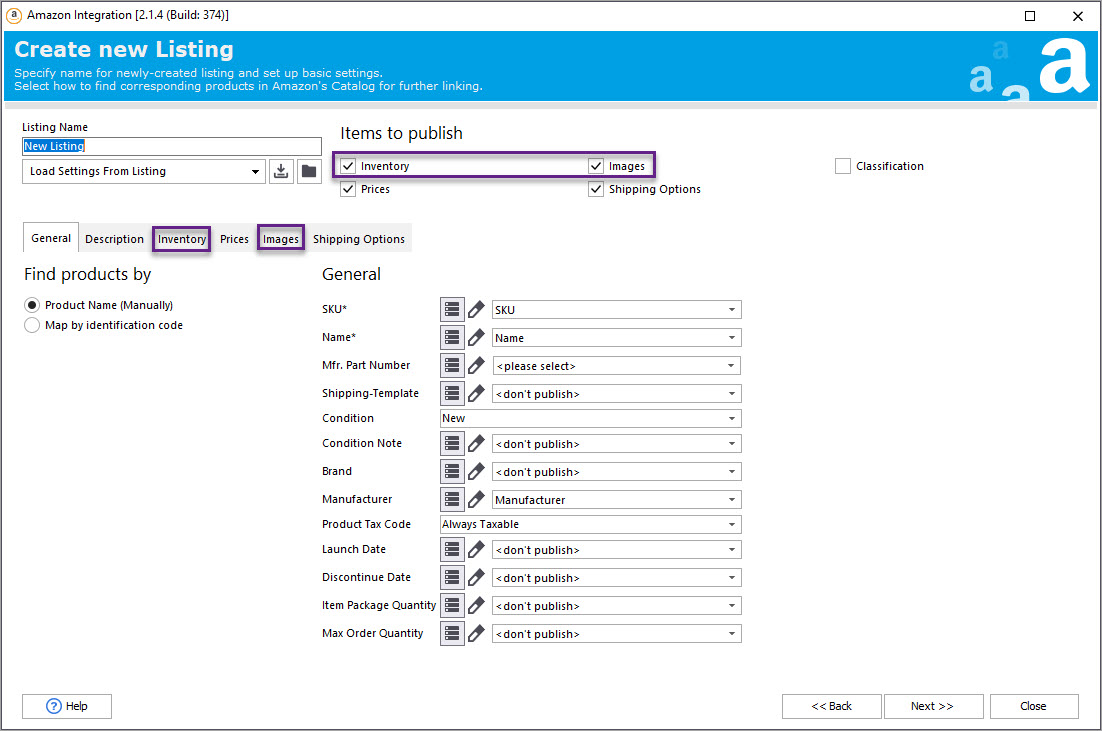 Enable "Classification" checkbox if you want your items to be placed in particular Amazon category and you will be moved to the step of mapping WooCommerce store categories to Amazon ones after you add products to listing.
Note, this option will be adjustable and opened as a separate tab via "Settings" option in Manage Inventory Data window only after your product listing has already been exported to the marketplace.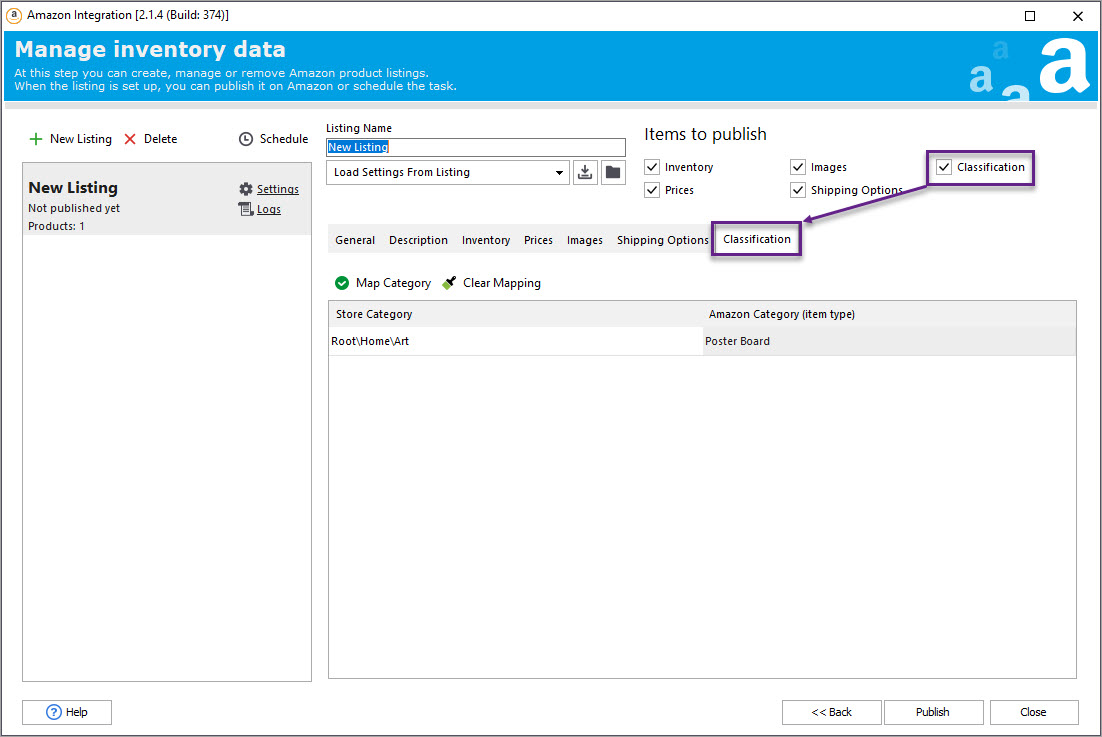 Now, let's continue with General tab on the left, that is responsible for one of the first and main steps during product export - select the identificator, your WooCommerce goods will be found by on Amazon. You can select between two options: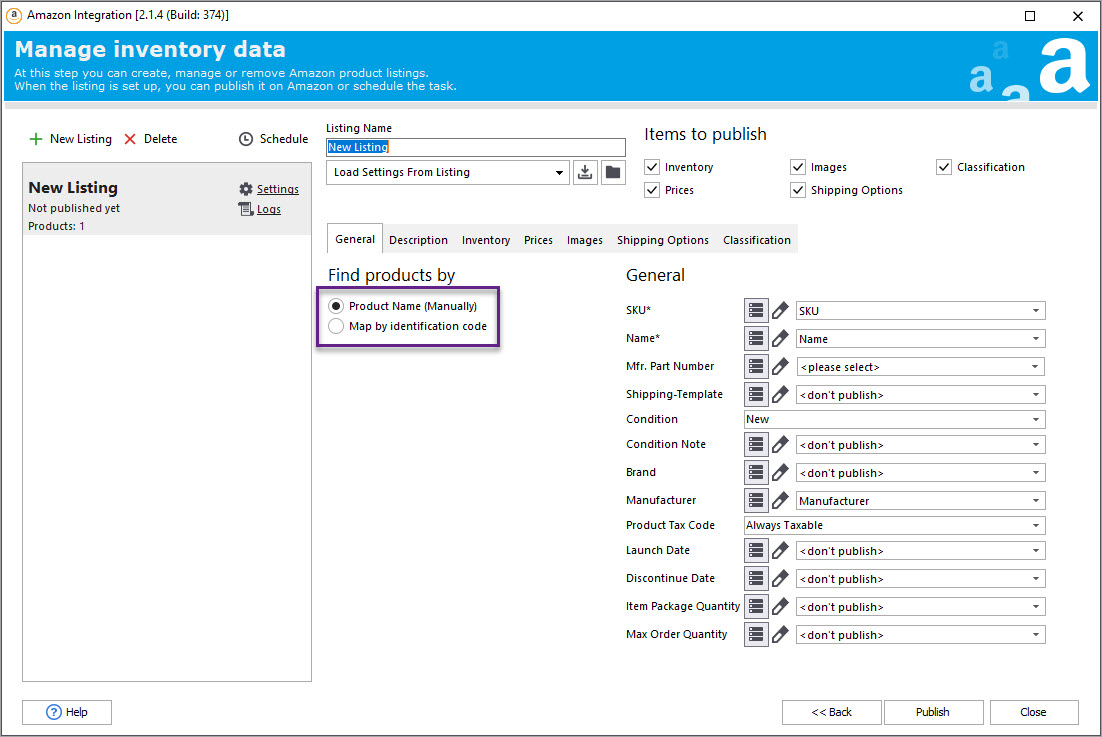 Product Name - in such case, you will need to search products on Amazon manually, specifying its name via "Find on Amazon" button and apply them manually.



Operate Products and Orders with Woocommerce Amazon Integration



Map by identification code - choose the Amazon ID (ASIN, EAN, UPC, ISBN, GTIN, GCID, PZN) and map it to the database field, that corresponds with the chosen identifier. In such case, items from your store will be lined to the matching ones on marketplace automatically.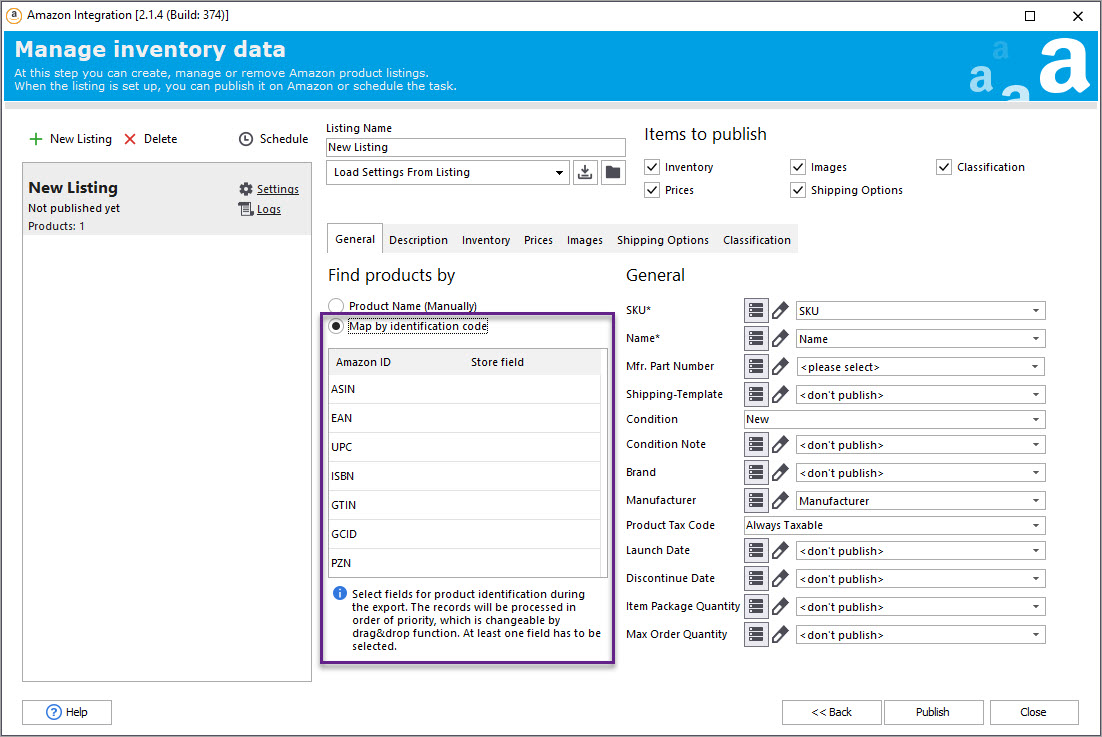 Next, specify what exact product-related data will be exported to marketplace - SKU, condition, manufacturer, max order quantity, etc. You can also use macros at the step of carrying out the merchandise.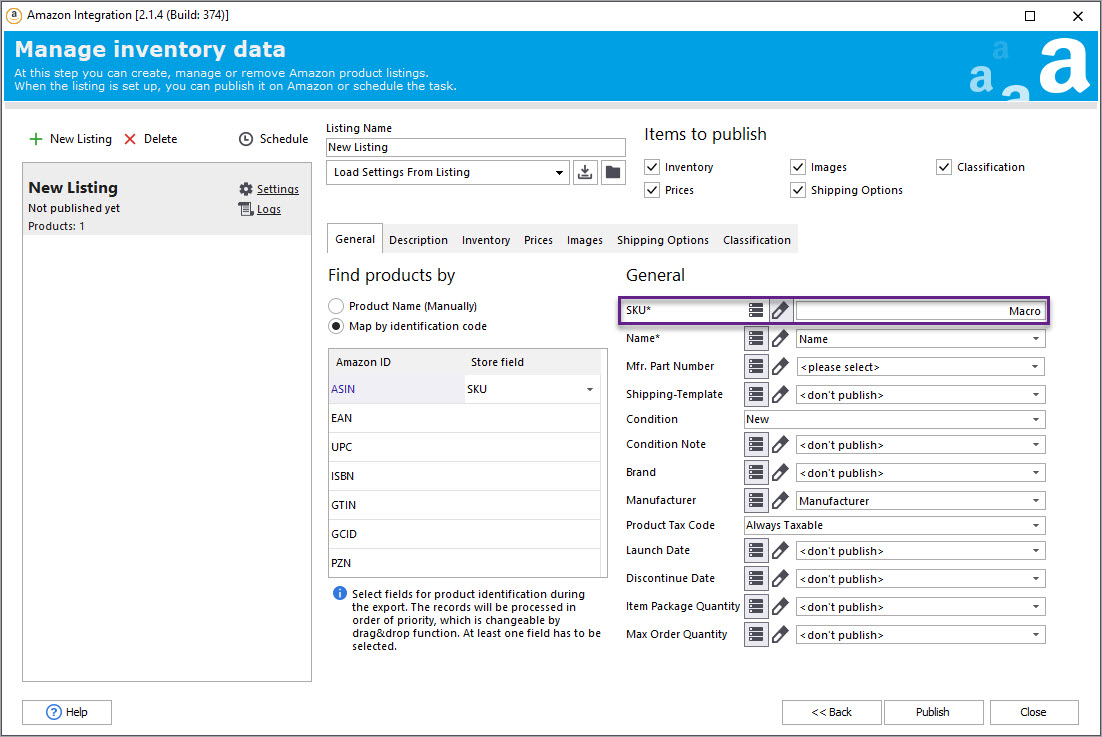 If you do not want to export all the data - you can leave the fields with "don't publish" option, that is setup by default, and these details will not be appended.
Then, you can carry on with the next step - add WooCommerce items to listing. To do so, use the appropriate option on the toolbar and select categories, your products will be retrieved from.
You can also use the search dialog window if you have big category tree.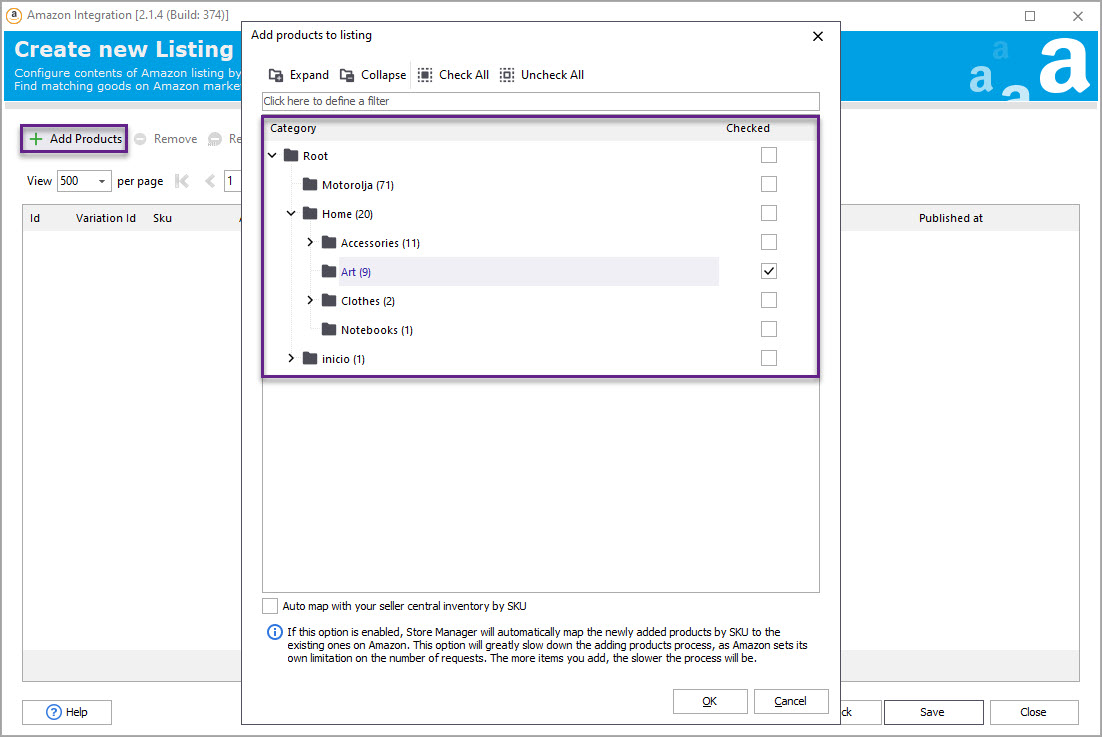 After you have picked the needed category - you will see products listed in the addon window.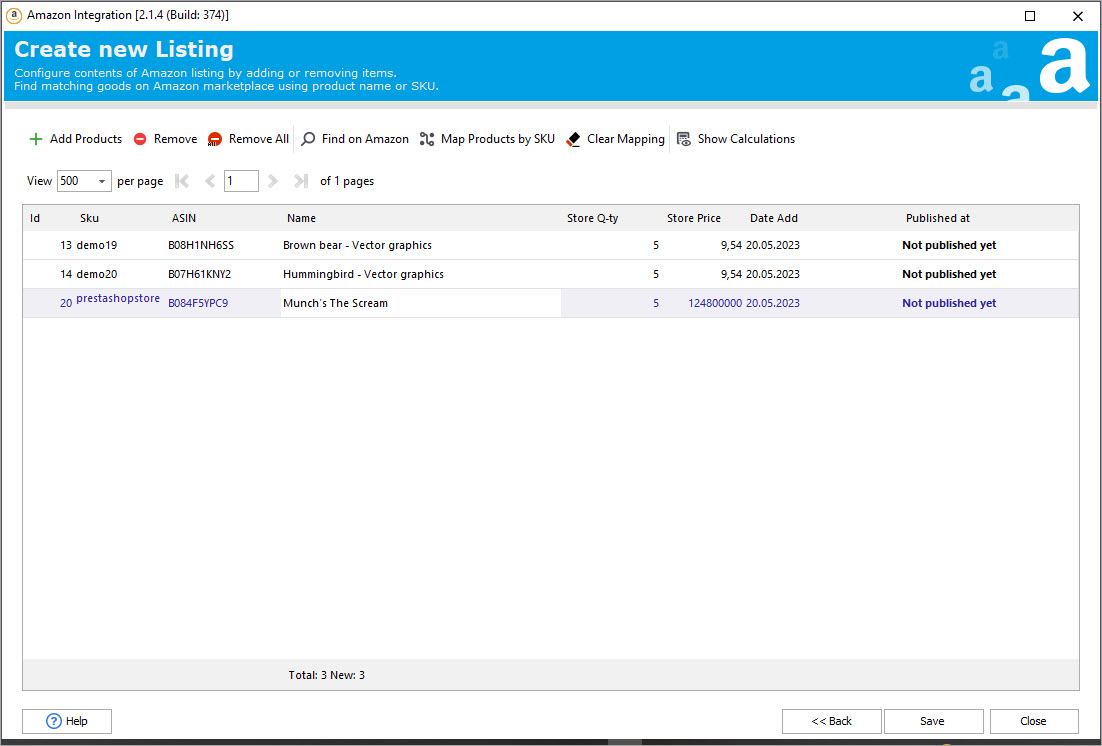 You can delete some or all of them if you do not want them to be processed to the marketplace.
Categories Mapping window offers to select Suggested Categories from the marketplace, that are the most appropriate to the ones, you publish from.
After you press "Save" button - you will be transferred to Manage Inventory Data window, that is divided for two parts: the left one allows to manage listing settings and the the section on the right lets specifying product-related data.