Date:
2021-01-04
Modified:
2021-01-21
How to Import Product Content from Icecat into WooCommerce
Icecat catalog is a source of standardized and multilingual content that you can use for your online store. Open Icecat is free and includes a limited number of products. Full IceCat is paid and contains products of 5000+ brands.
If you are selling products from the following categories: IT, CE, Telecom, DIY, Beauty, Toys, Lighting, FMCG, or Office supply, you can benefit from the ICEcat Integration addon in Store Manager for WooCommerce. It allows you to find, upload, and update product listings from the Icecat catalog automatically.
Steps to Import Product Data from Icecat Catalog to WooCommerce
Step 1. Configure the Settings Before Data Synchronization
If you are using ICEcat Integration for the first time, you need to connect it to your ICEcat account, specify search parameters, and some other settings. So, after you've launched the addon, switch to the "Settings" tab.
First, you need to connect the addon with your Icecat account.
Note If you don't have an account yet, register it at icecat.biz (Open or Full version).
Provide the username and password that you use with your Icecat account and choose its type (Open or Full). Press "Check authorization" to make sure the addon has access to the catalog.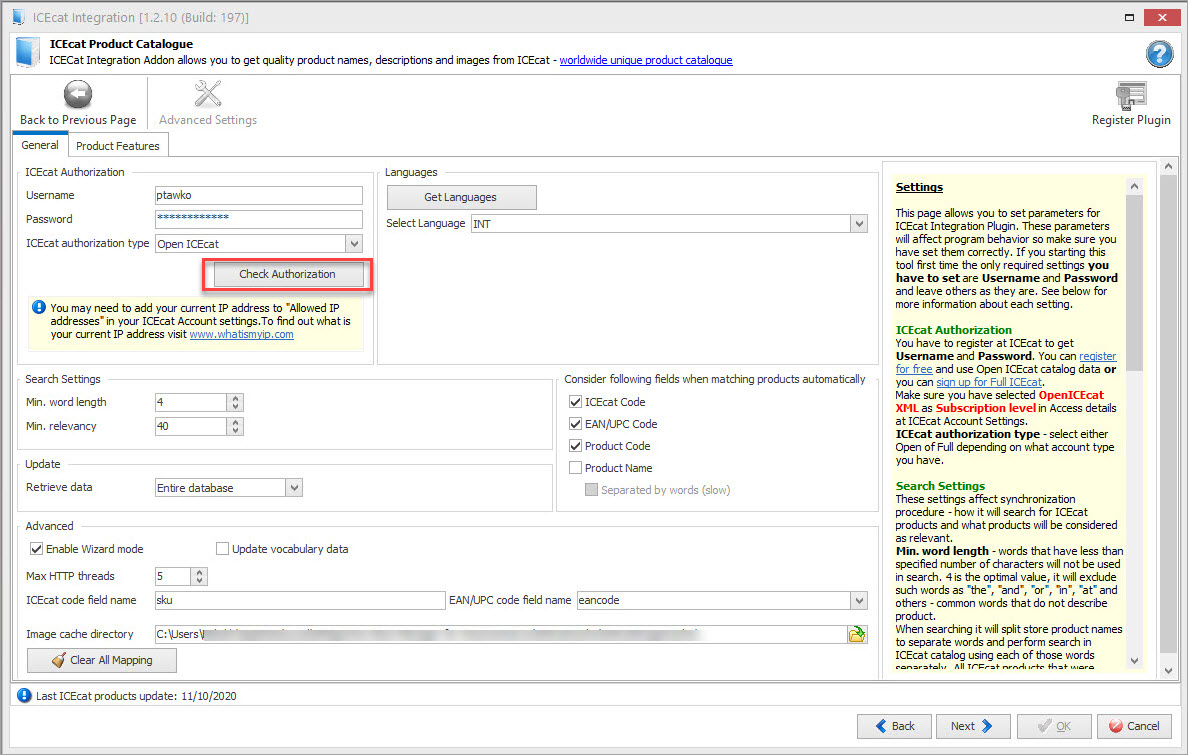 Next, specify the following settings:
Language of the content that you want to upload.
Search Settings (minimal word length and relevancy) to find matching products on ICEcat.
Update settings (define whether to retrieve the entire database (recommended when you start using the integration) or daily updates (recommended for further synchronization).
Fields to find matching products automatically (ICEcat code, EAN/UPC, Product Code, Product Name)
Specify the Fields Containing Icecat Product Identifiers
When you are viewing an item's page on Icecat, you can see identifiers at the top. They are Product code and EAN/UPC code.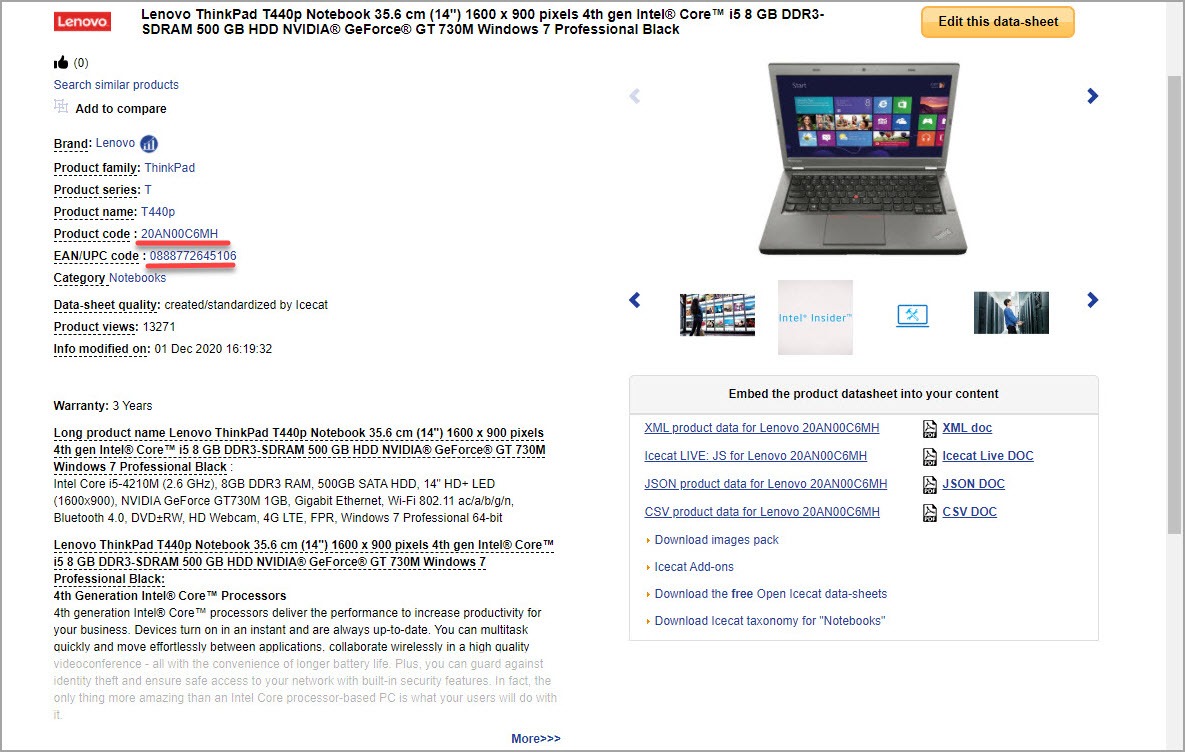 To find the best matching products on ICEcat, you need to have one of those identifiers in your WooCommerce store database.
Depending on the structure of your database, Icecat Product Code can be stored in the Name or SKU field, or the Custom field.
The same is with EAN/UPC coded. By default, WooCommerce does not have an EAN/UPC field. As a workaround, you can create a custom attribute for EAN/UPC. Or add the code into an SKU field.
Because product identifiers can be stored under different fields in a database, you need to specify this manually. So, let's move on to the Advanced settings section.
Mapping Database Fields to the Icecat Fields With Product Identifiers
Example 1. The identifier is Icecat code that is stored in the SKU field: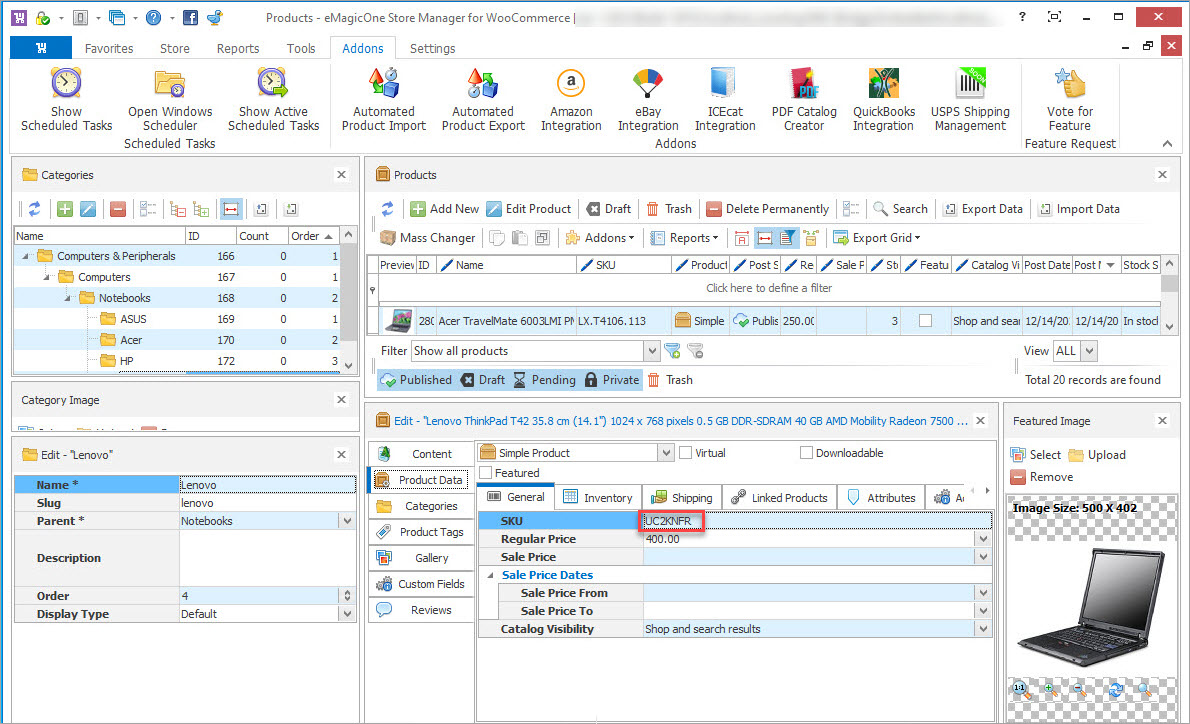 So, for the ICEcat code field name an SKU must be specified: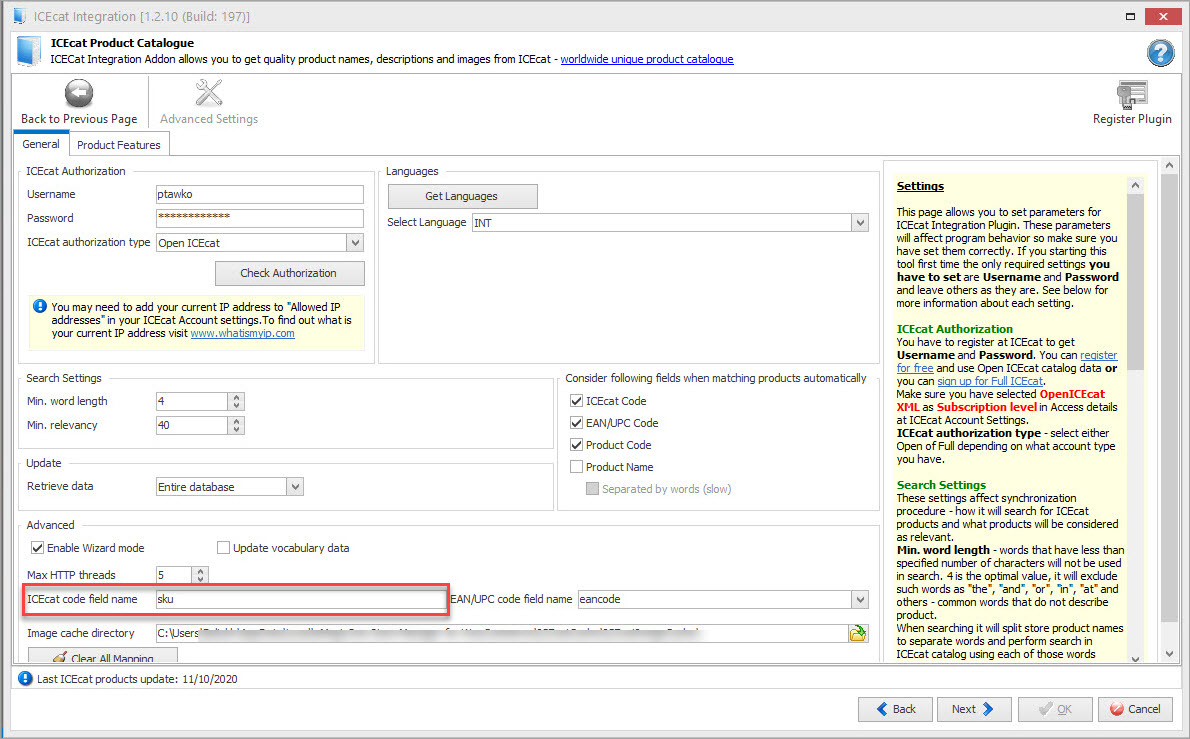 Example 2. EAN code is added as a custom attribute in WooCommerce: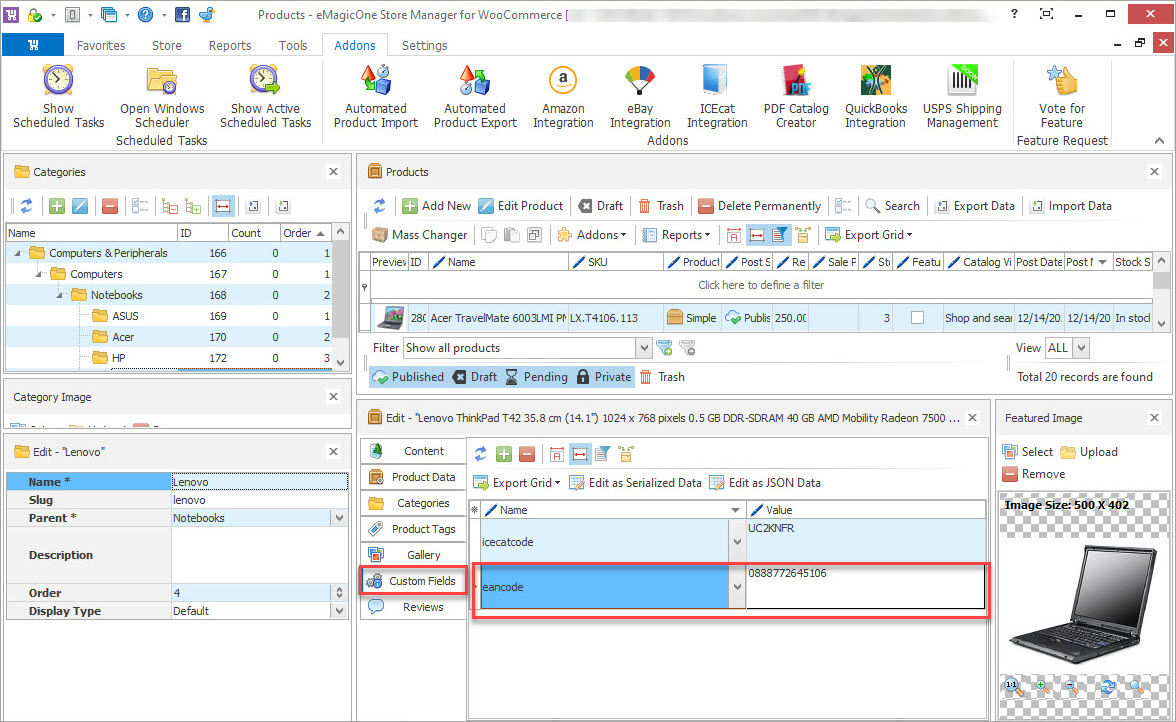 So, for the "EAN/UPC code field name" an "eancode" field name must be entered: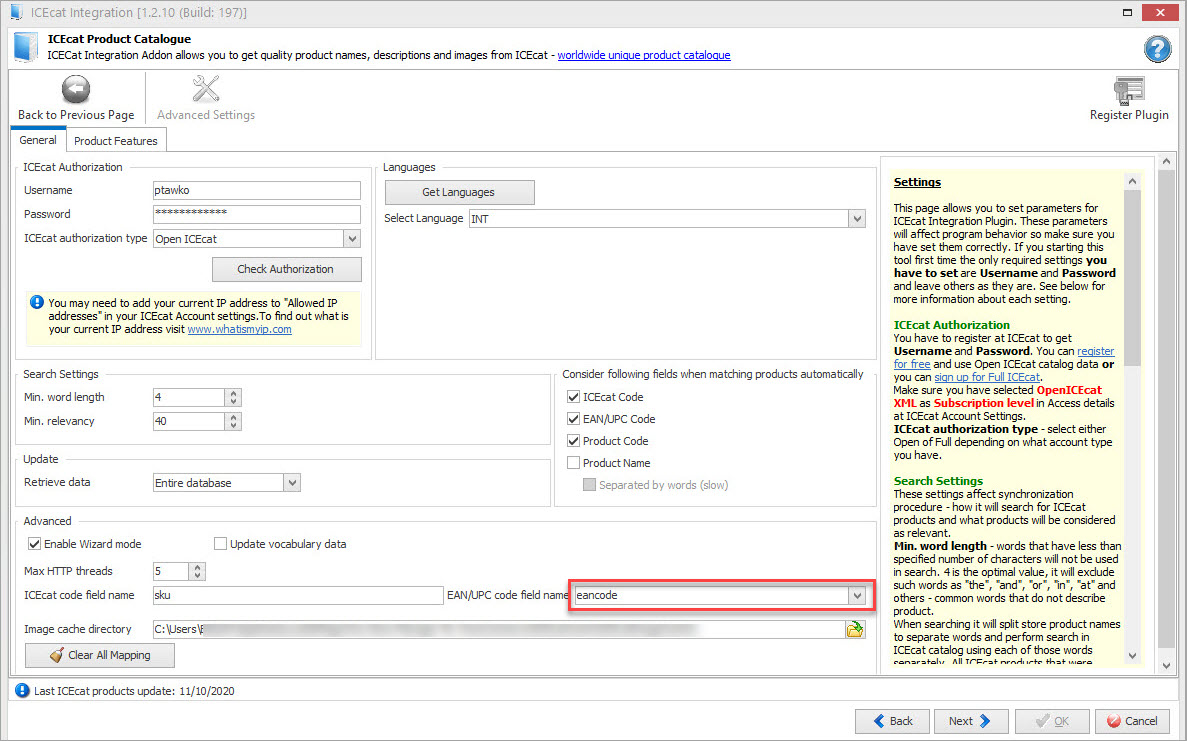 Example 3.The identifier is EAN code and it's stored in the SKU field: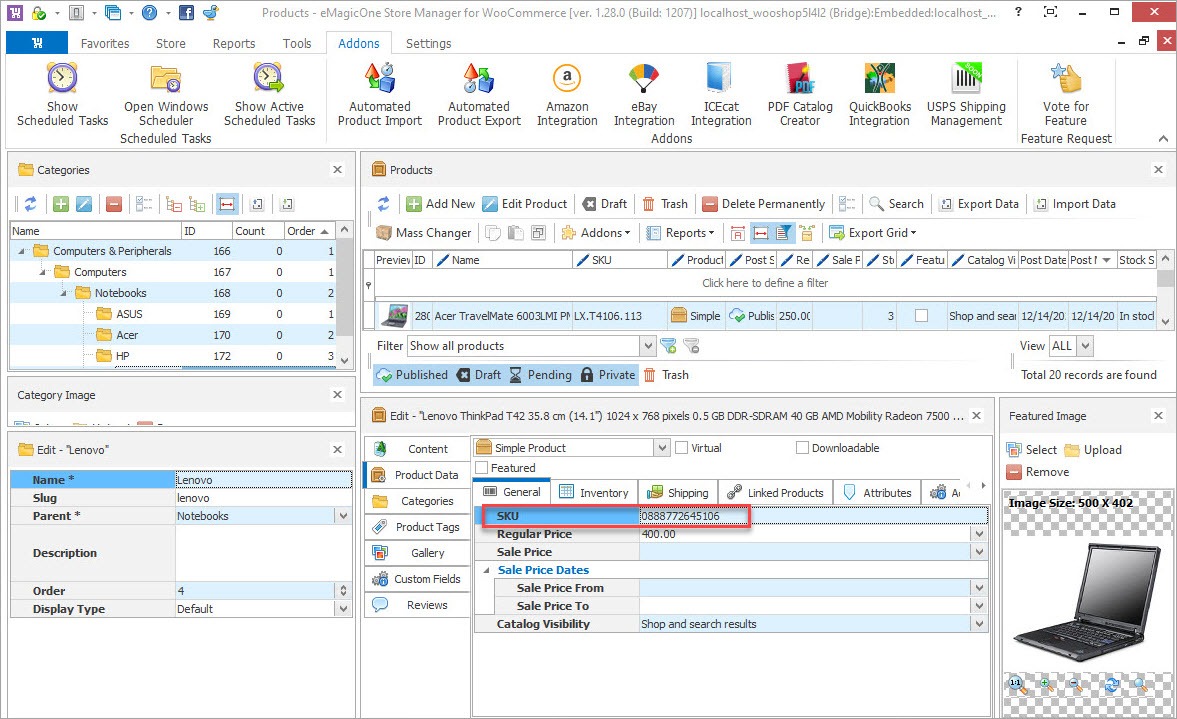 So, an SKU field must be selected in the dropdown: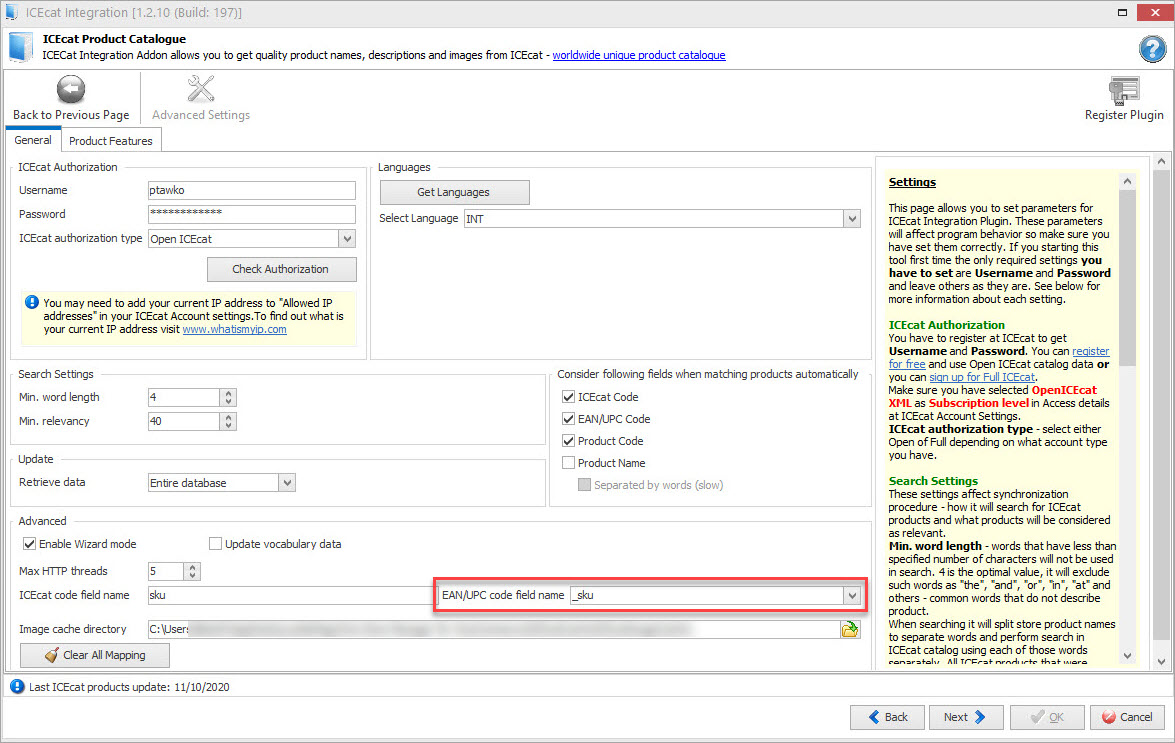 Important Be sure to map the fields between your store database and ICEcat properly, so that coincidences could be found.
Adding Product Features from Icecat
Some products on Icecat have the "Features" section with the detailed product specification. This data can be imported into the Description field in your store. For that, switch to the Features tab and select the "Add product features to description" check box: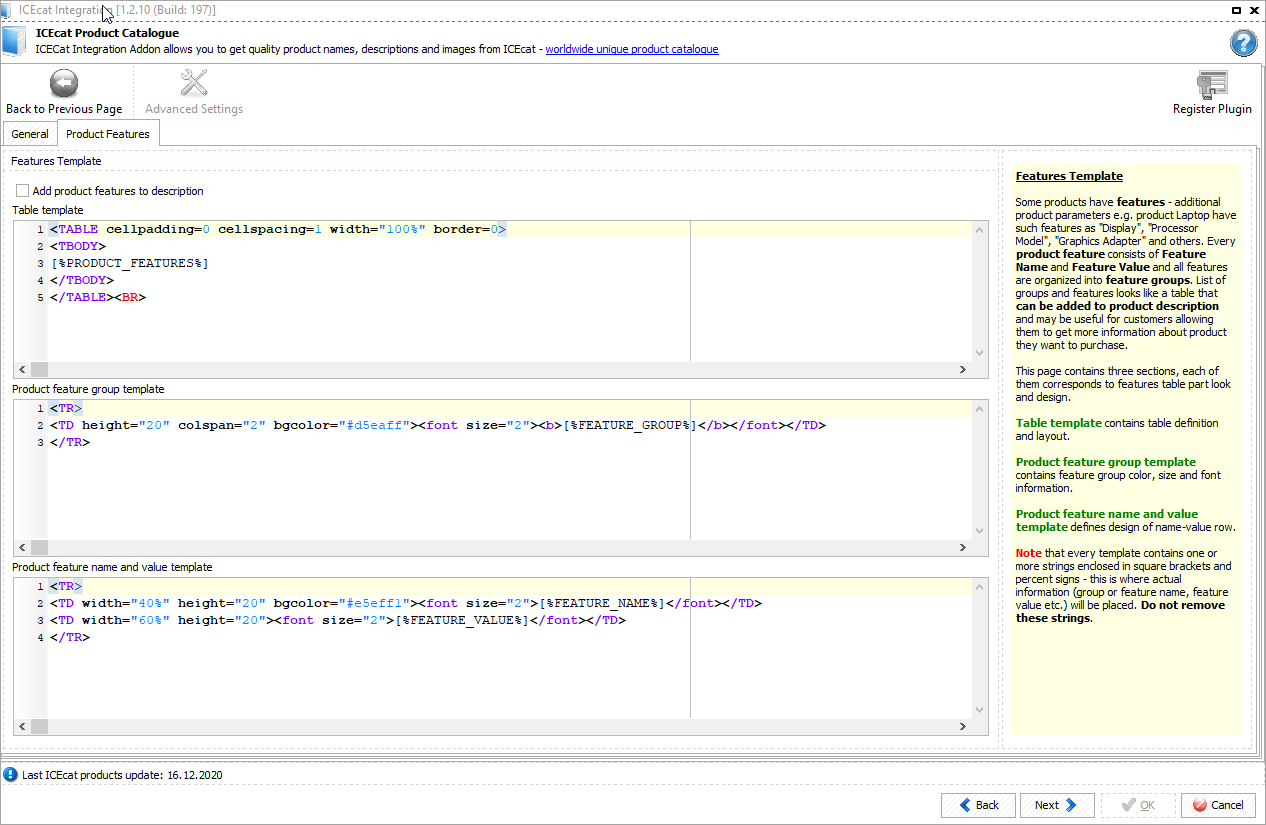 Step 2. Load WooCommerce Products
In this step, you will load your store products to the addon. Use filters to select the products to which you want to get ICEcat descriptions and other data.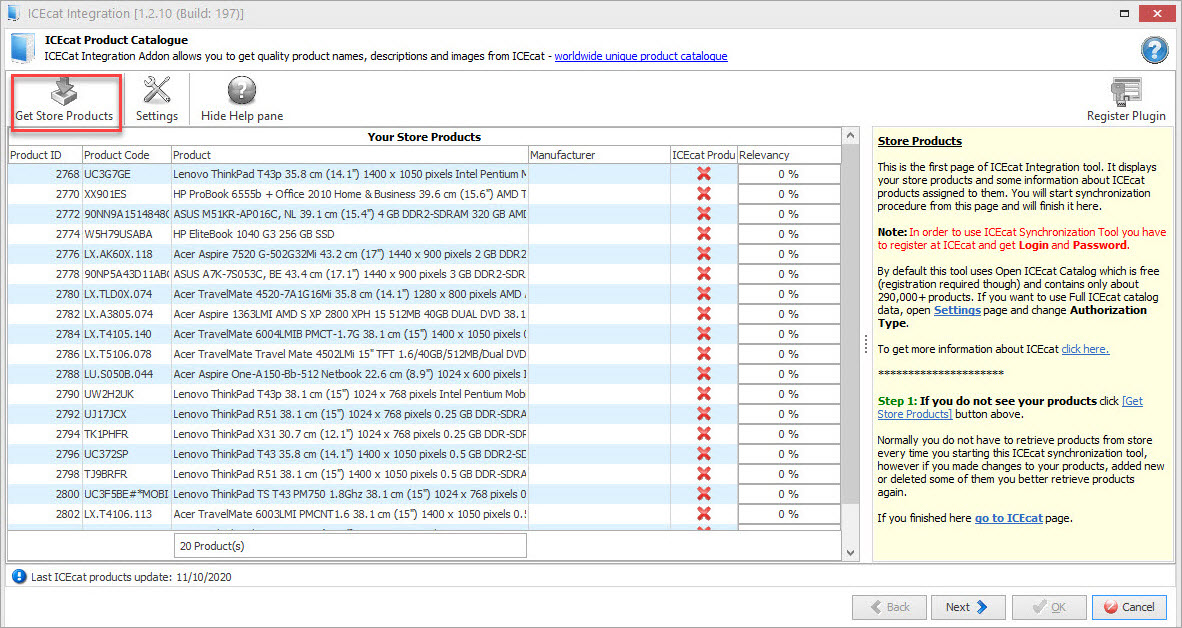 Step 3. Select Icecat Categories and Brands to Search For
Next, you will need to load the Icecat database in the addon. If you are using the Wizard mode click "Next" to proceed to this step. Otherwise, open the IceCat tab.
Icecat holds a multitude of categories and products. You can narrow the search by checking relevant categories and suppliers:
Note If you want to upload products from child categories, expand parent category and then check the required child category. If you only select the parent category, products won't be loaded.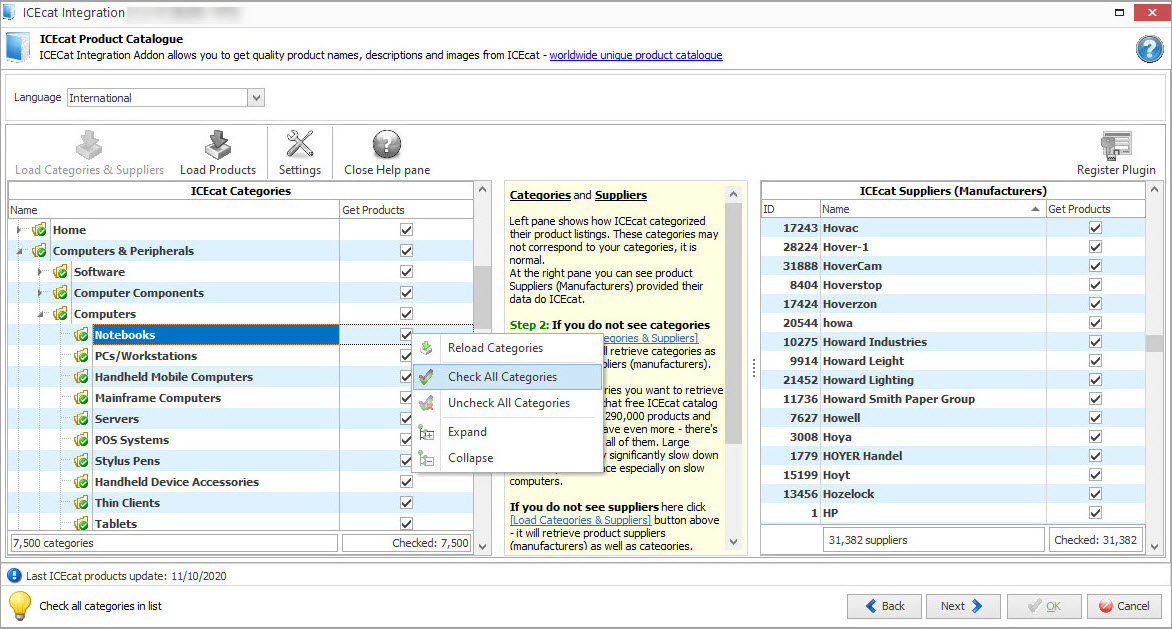 If IceCat listings are not shown in this window, click on "Load Categories&Suppliers". Note, the more categories you check, the more time it will take to retrieve the data. After you've made a selection, press "Next".
Step 4. Preview Retrieved Icecat Products And Their Details
In this step, you can see all products and their details that were retrieved from ICEcat.
This window has two panes. The first pane displays the categories you selected at the previous step. When you select a certain category, its products are displayed in the second pane. By clicking a product, you can see its details on the right: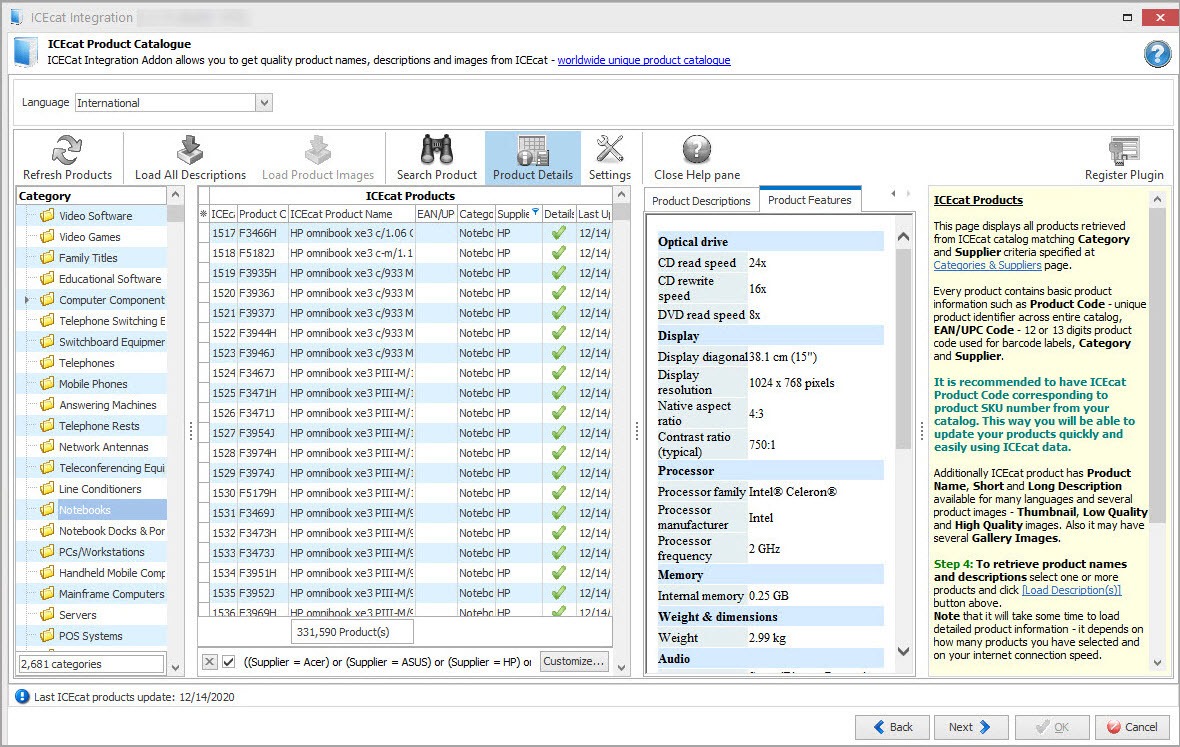 By default, the addon shows only basic information. You can load extra ICEcat details – features, descriptions, and images – by pressing corresponding buttons on the toolbar.
After that, product descriptions and images will be displayed in the right pane in separate tabs.
Step 5. Find Matches and Import Icecat Data into WooCommerce
In this step, you will find matching products on Icecat, select most relevant of them, and load data into WooCommerce. The addon offers several options to do this, here they are.
Find Matching Products
When you press this button, the addon will try to search for appropriate products on Icecat using product SKU and name.
The upper area of the window displays your products. When you click on a certain product, the matching product (if there it was found) will be displayed below. There might be several products matching the search sorted by relevancy. You can select the product that you think is more appropriate.
Manually Find and Link Icecat Products
Select the product you need to update and press "Manually Find and Link IceCat Product" on the toolbar. In the search form input the text to search for as it is displayed in the screenshot:
After you link a corresponding Icecat product to the WooCommerce product, select what details you want to update: name, short description, long description, manufacturer, thumbnail, image gallery, and press OK.
Link Products Automatically
If your WooCommerce products have the same identifiers as Icecat ones, you can flawlessly link them and update necessary fields.
This option is available in the product context menu, so you can use it and bypass other wizard steps: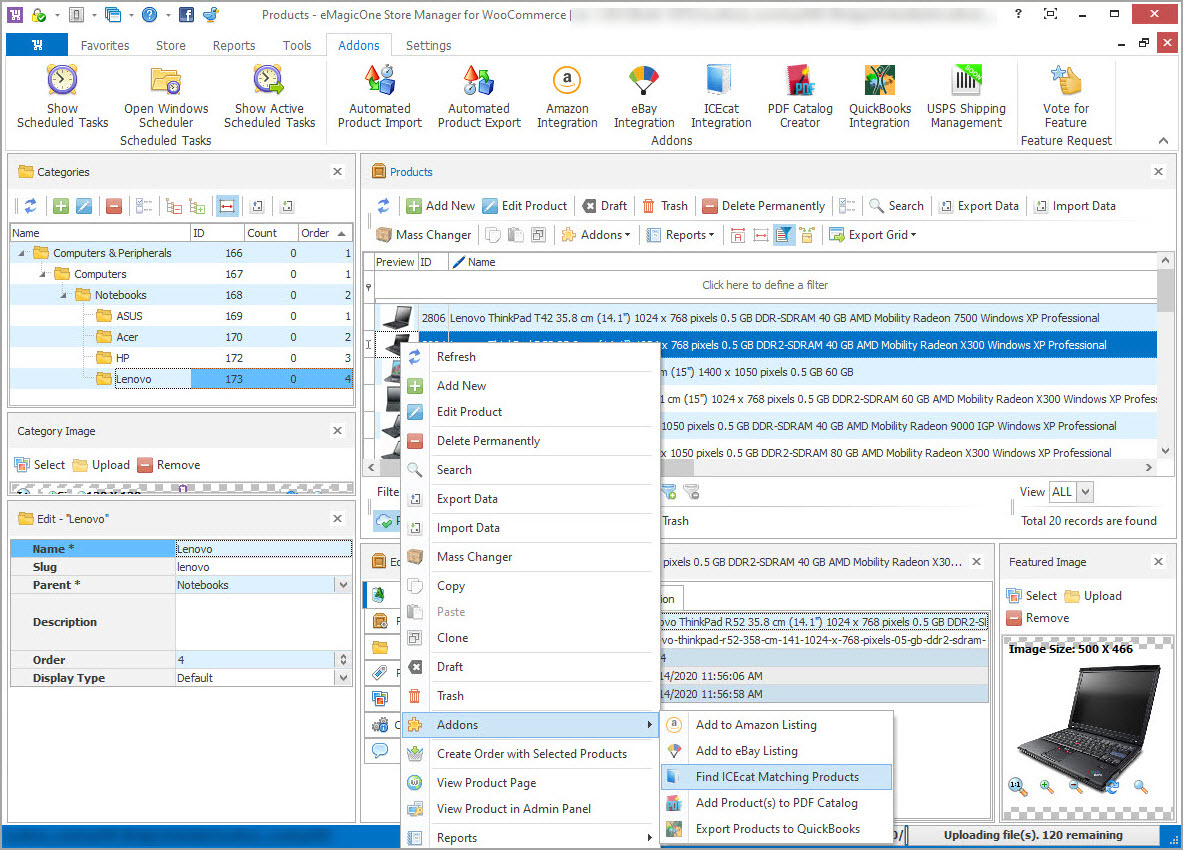 As you can see, a matching product has been found and linked to the one we have at our store. All that is left is to select details to be loaded for this product. We choose each except the name: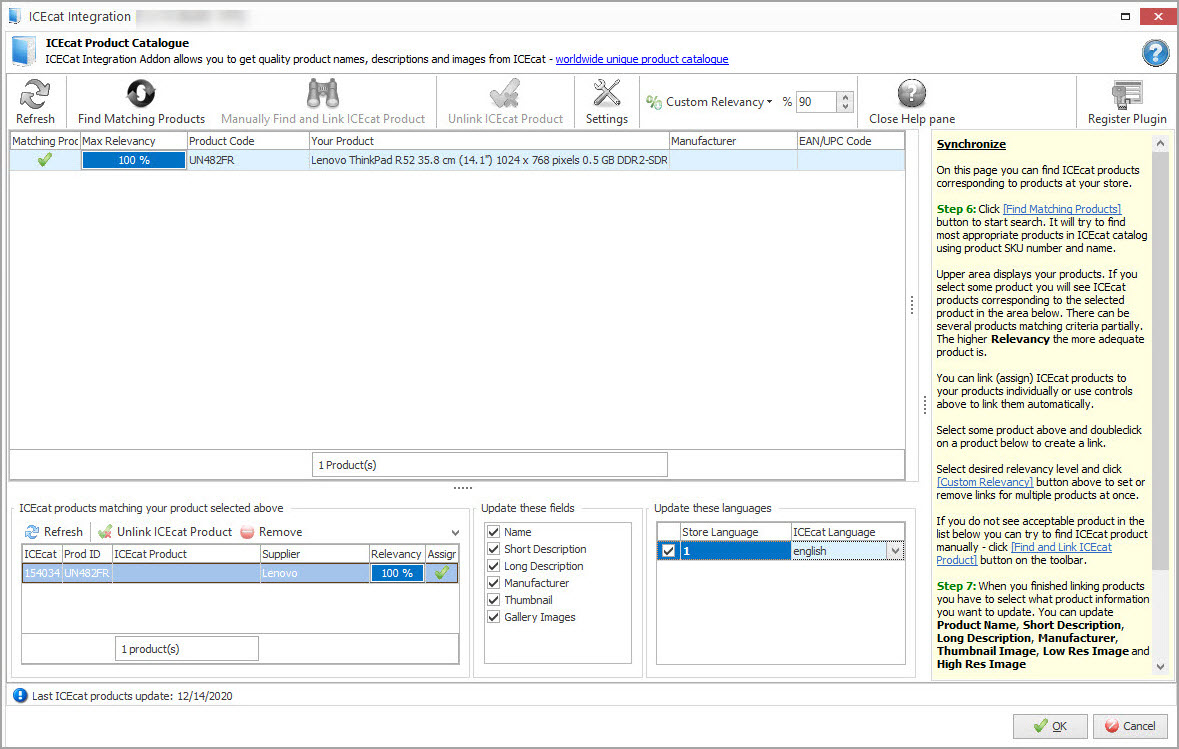 How Icecat fields will be imported into your store database:
Icecat Name ->Product Title
Short Description ->Short Description
Long Description -> Long Description
Manufacturer ->Custom Field
Gallery Images -> Gallery
Product Code ->icecatcode
Use ICEcat integration for WooCommerce to quickly fill your store with verified descriptions and images!
Try Icecat Integration to add product content to your store!
Try now FREE
COMMENTS