Date:
2018-06-18
Modified:
2023-05-30
WooCommerce Users and Their Roles
Having your WooCommerce users organized into groups, gives you power to better manage and control activities on the website, assigning different capabilities to specific site members.
In this article we will try to give you basic idea how to start working with your user base more efficiently.
WooCommerce Users VS Customers
WooCommerce user is general notion which gathers under it different types of eCommerce participants. Here belong not only customers, but also entrepreneurs managing WooCommerce shops. Thus in WooCommerce, users are not only shoppers who visit your website and make purchases, subscribe to updates, but also people, who work with website content.
Existing User Roles in WooCommerce
Different users have different possibilities and allowed areas. On the basis of this are defined main WooCommerce user roles:
Administrator
Editor
Author
Contributor
Subscriber
Customer
Shop Manager
All of these roles have different access permissions and serve different purposes. Once a user is created, a specific role is assigned to him/her.
Filtering Users by Roles
In default WooCommerce you can filter users only by one selected group. In case you need to make more advanced selections, choosing a few roles or including other filtering parameters, Store Manager for WooCommerce may be handy solution.
Since filters available in Store Manager are stackable you can use multiple filters at once. Let's say, you would like to get the list of users with 'Customer' roles assigned and who registered in the last week of current month, this is possible in 2 clicks: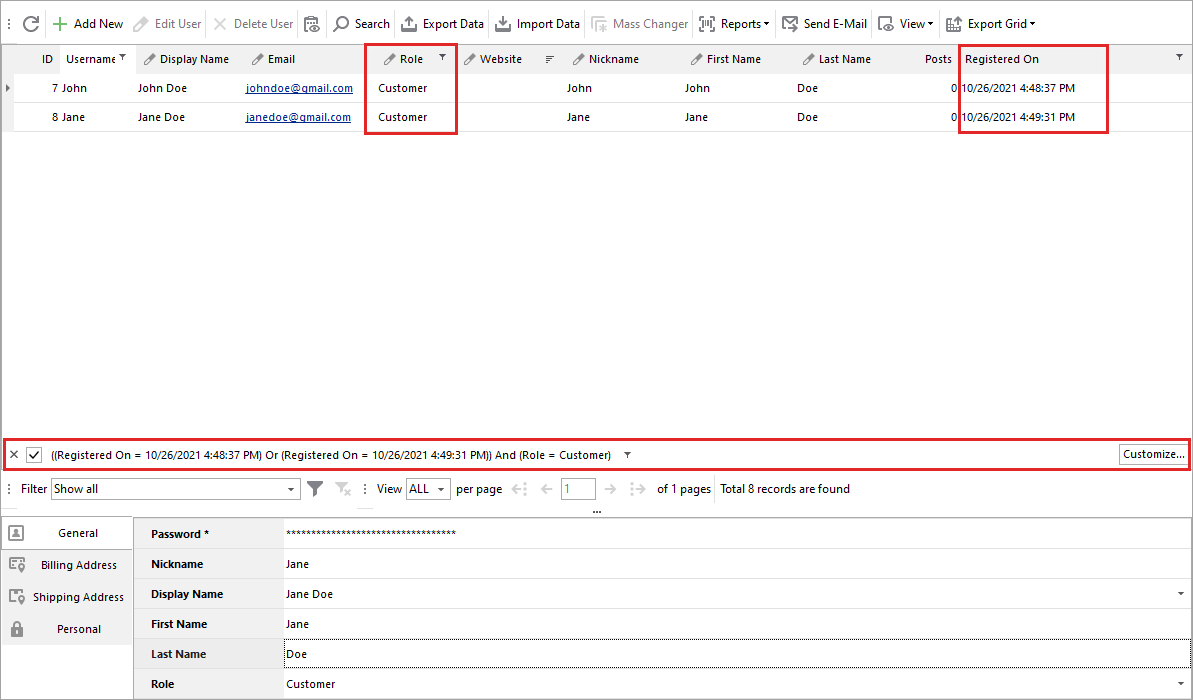 Filters of Store Managers are very flexible and can be easily adjusted and combined together.
Bulk Operations Over WooCommerce Users
Bulk changes are handy when you have a certain criteria to tag your users. Store Manager for WooCommerce offers very useful ways for editing information on multiple customers at once:
Edit/Delete Selected Users

When selecting a few user records, you have the ability to modify details on them in the lower grid or remove them massively. This is perfect for setting common values for multiple accounts in bulk.




Bulk Editing and Deletion of WooCommerce Users



Mass Changer

With this advanced tool you can make specific modifications for user-related fields. Here you can apply a number of changes at the same time.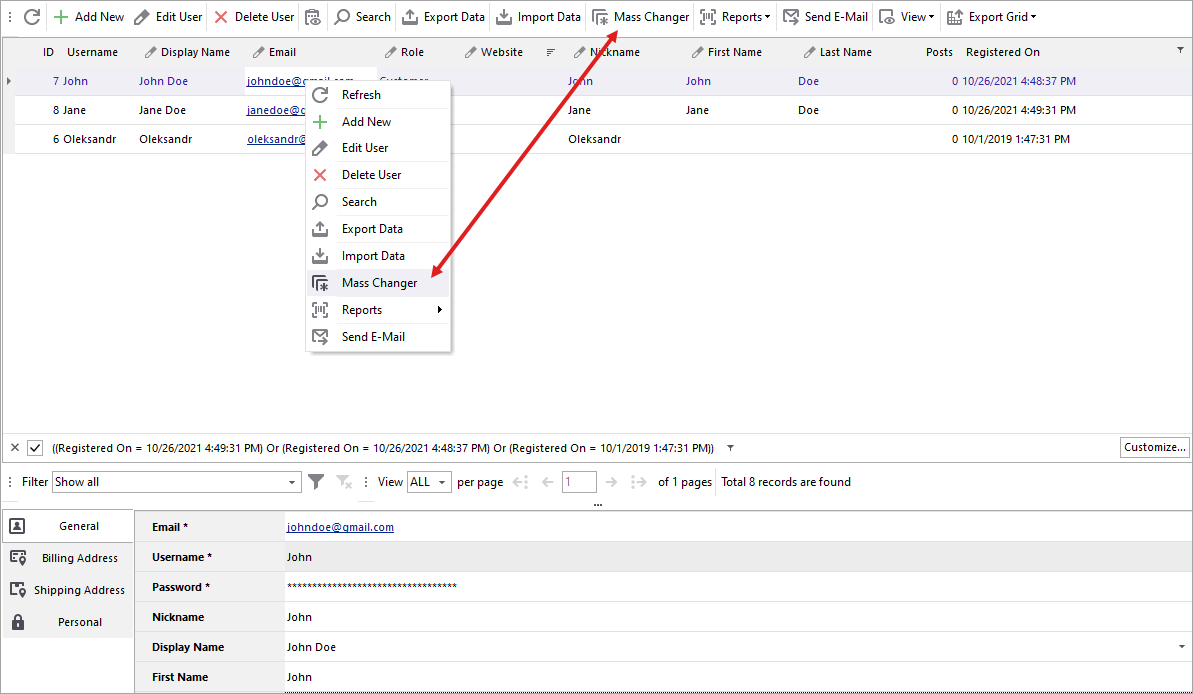 Adding or Changing Role for Multiple Users Massively
To see how bulk functionality works in action, let's use example and see how easy it is to change or assign new role to a bunch of users.
First step will be to select members you need to make modifications to. Next you can either update role, selecting available from the drop-down in lower grid or use 'set to' function in Mass Changer:
In both cases changes are applied in seconds. Now you can try it yourself with 2-week free version of Store Manager for WooCommerce.
Improve organization of your WooCommerce customer base!
Try FREE
COMMENTS
Sameh • 08/04/2019
Hi,
I would like to buy your application but is there is a way to give user privalege to change order status only , everything else ready only ?
Using your application can I customize the invoices ?

WooCommerce Store Manager

Mod
Sameh
• 08/04/2019
Hello Sameh,
Thank you for your interest in our Store Manager for WooCommerce and for your comment.
You can grant a user access to orders section completely: to view or modify them (or both), see the screenshot attached: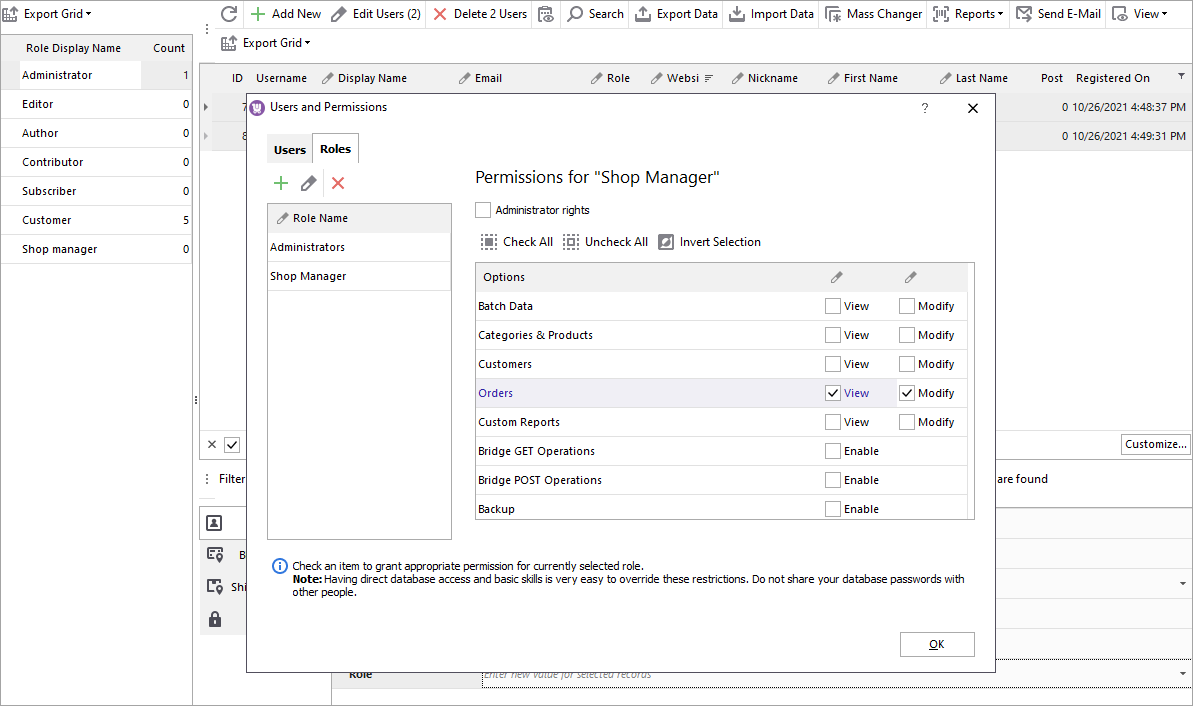 You can find more about access management here: Access Management – Set Custom WooCommerce Roles and Define Their Permissions
As for the invoice, it can be modified following this guide: Manage WooCommerce Custom Reports
If you have not tried yet, you can test the software free for 2 weeks via "Try for FREE" button on current page.