Date:
2018-09-29
Modified:
2023-05-23
Duplicate WooCommerce Products
Duplicate WooCommerce products if you need to quickly create multiple almost identical goods. Instead of adding all the product details from the scratch, which requires time and efforts, you can copy or clone product, including images and other info into a separate item to speed up creation process. Then make some edits of name, description, perform other small changes if necessary and you are done! You can start selling new products with just a few clicks.
This way you can also quickly create dummy products for common items like cookies, soap, even groceries to play around when testing WooCommerce functionality.
This tutorial explains how to copy or clone your WooCommerce products in bulk along with their variations, reviews, assigned categories and even cross and up-sells using Store Manager for WooCommerce application. Through this plugin WooCommerce users can either duplicate a product as it is or change product content as per requirements.
So let's have a closer look at the methods to duplicate WooCommerce products available in Store Manager application.
Duplicate WooCommerce Products Copying Them From One Category and Pasting to Another
The functionality to copy /paste products available in Store Manager for WooCommerce allows to copy one or multiple goods from one category and paste it to another. Using it you can either assign duplicated item to completely different category or keep the category that was assigned to parent product(s) and additionally link copied item to another category (the one it was pasted to).
Copy-Paste buttons you can find in products main menue or context menu. Before using them, select products you'd like to multiply. Store Manager allows to make copies of multiple selected goods at once, that is very convenient if you need to add a dozen of products that are only slightly different.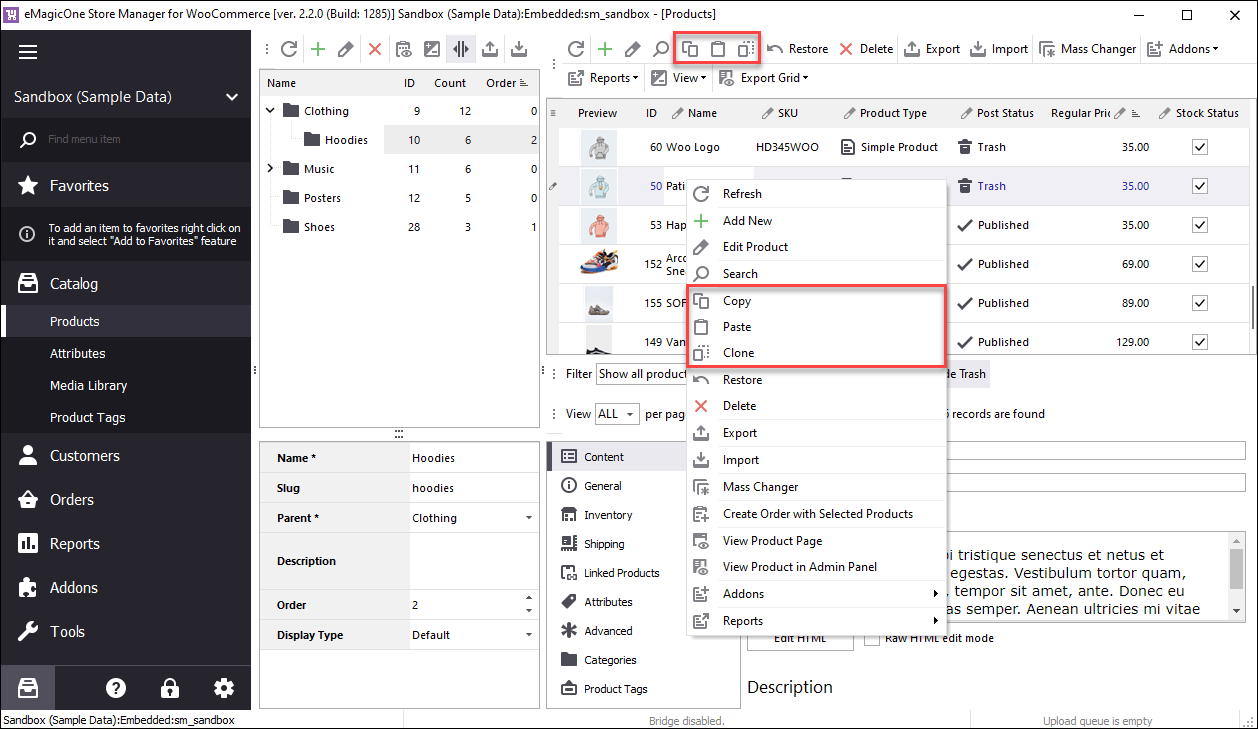 Once products to be duplicated are selected, press 'Copy' button. Then move through category tree to select the target location of copied products and there press 'Paste'.
Clone Existing WooCommerce Products
To multiple products in one-click you can use 'Clone' option. It will duplicate product records in pretty much in the same way as the above mentioned method. The only difference is that cloned products will be right-away placed to the same category original item was assigned to.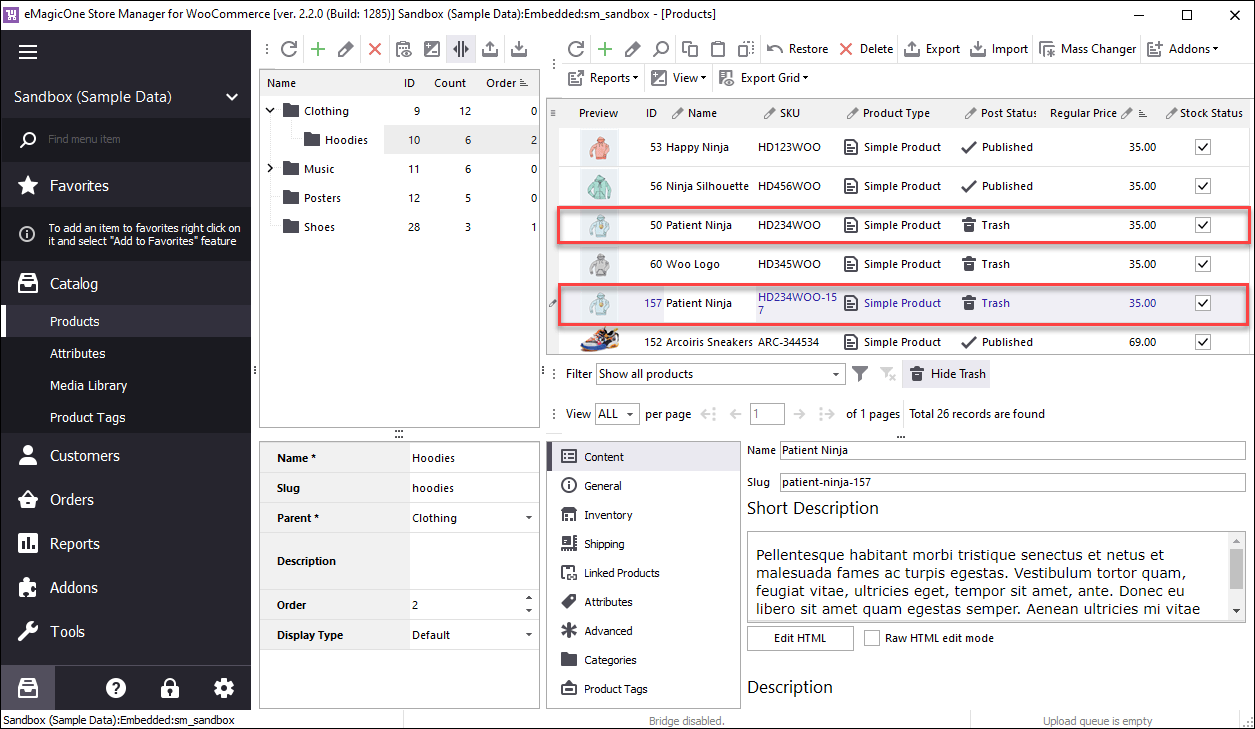 This considerably saves time if you need to create multiple products categorized in the same way.
Select Data to Duplicate for WooCommerce Products
When you use 'Copy/Paste' or 'Clone' option you can also select some data to be duplicated along with products. Namely they are:
Product variations
Categories products are assigned to
Reviews
Cross-sells
Up-sells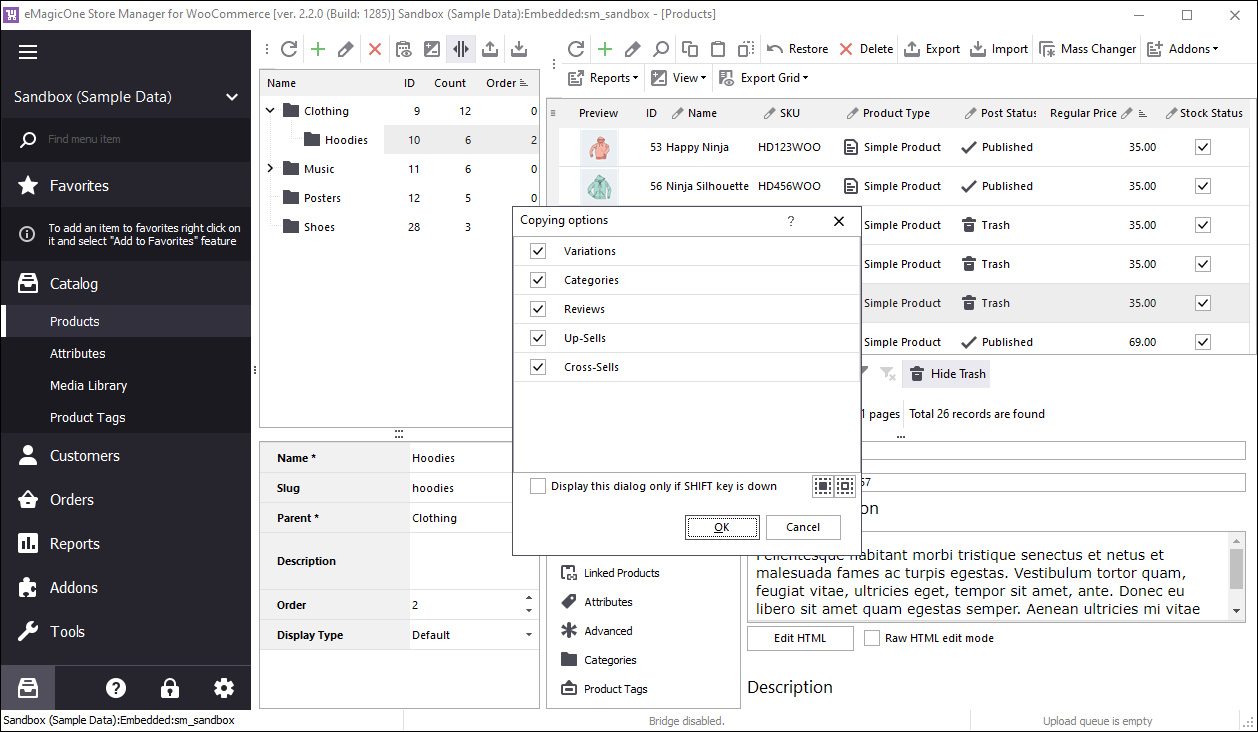 Tick the box to unselect details you consider not relevant for new products you get via duplication.
Duplicate WooCommerce Products with a Single Click
Try FREE
Related Articles: