Date:
2016-12-29
Modified:
2021-08-30
Bulk WooCommerce Product Update via Mass Changer: Detailed Tutorial
One of the most important things you can do in terms of catalog management is bulk WooCommerce product update. Perhaps you are planning a sale with 25% off all the merchandise, or suppliers have changed base product cost and you need to synchronize with them, or descriptions are not complete and you have to renew them. Whatever the case is, single product editing will not be a way out. WooCommerce Mass Product Changer will do all the manipulations en masse.
WooCommerce Mass Product Changer: Overview
Mass Product Changer has been developed to simplify WooCommerce bulk product update. It is built in Store Manager for WooCommerce and comes with lots of handy options:
Specify what entities to update - either selected at the moment or all products in the catalog.


Combine multiple product update conditions - configure numerous field updates in Mass Product Changer window, no need to reopen it if numerous details await changes.


Create configurations and use them further for bulk WooCommerce product update - WooCommerce Mass Product Changer allows to save product update settings to .mcf file and use it next time for catalog update fulfilling
What Fields Can Be Updated?
Basically, any product related detail is accessible in the list of fields in Mass Product Changer. When adding new line in bulk WooCommerce product update tool, you expand the first dropdown and select detail to be updated: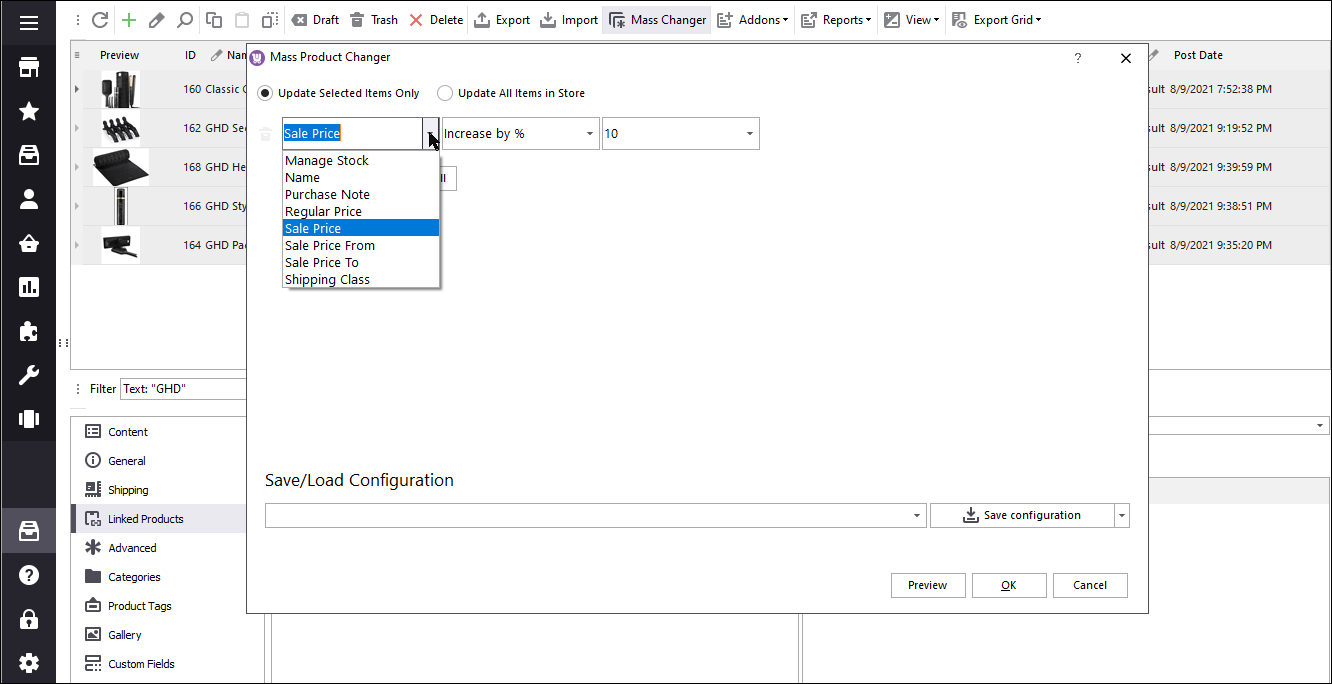 Back orders
Product description/Short description
Product Reviews (Enable/Disable)
Featured Image
Height/Length/Weight/Width
Manage Stock
Name
Purchase Note
Regular Price
Sale Price/Sale price period
SKU
Stock/Stock Status
Tax Class/Tax Status
Sold Individually
Shipping Class
Important:
Mass actions, appearing in the following dropdown, depend on product field, you are going to update. For example, stock tracking can be enabled or disabled. Respectively, when you choose Manage Stock field in Mass Product Changer, the following dropdown offers you one action only - "Set to" ("Yes" or "No" in the third dropdown).
Bulk WooCommerce Product Update: Samples
You got acquainted with WooCommerce Mass Product Changer and know what details can be updated for multiple product listings. It is high time to cover some samples and show how the changes are implemented and show advanced techniques accessible.
Sample 1. Manage Backorders for WooCommerce Products
When WooCommerce products run out of stock, you can enable backorders for customers to be able to buy these products. Mass Product Changer handles backorders so you can enable, disable backorders or allow backorders with parallel customer notifying.
Put required items into focus and run Mass Product Changer.
Find "Backorders" field in the dropdown.
Select update action in the second dropdown, only "Set to" is available as you have noticed.
Choose one of the options "Allow", "Do not allow" or "Allow but notify customer" in the last dropdown.
Apply the changes and check results.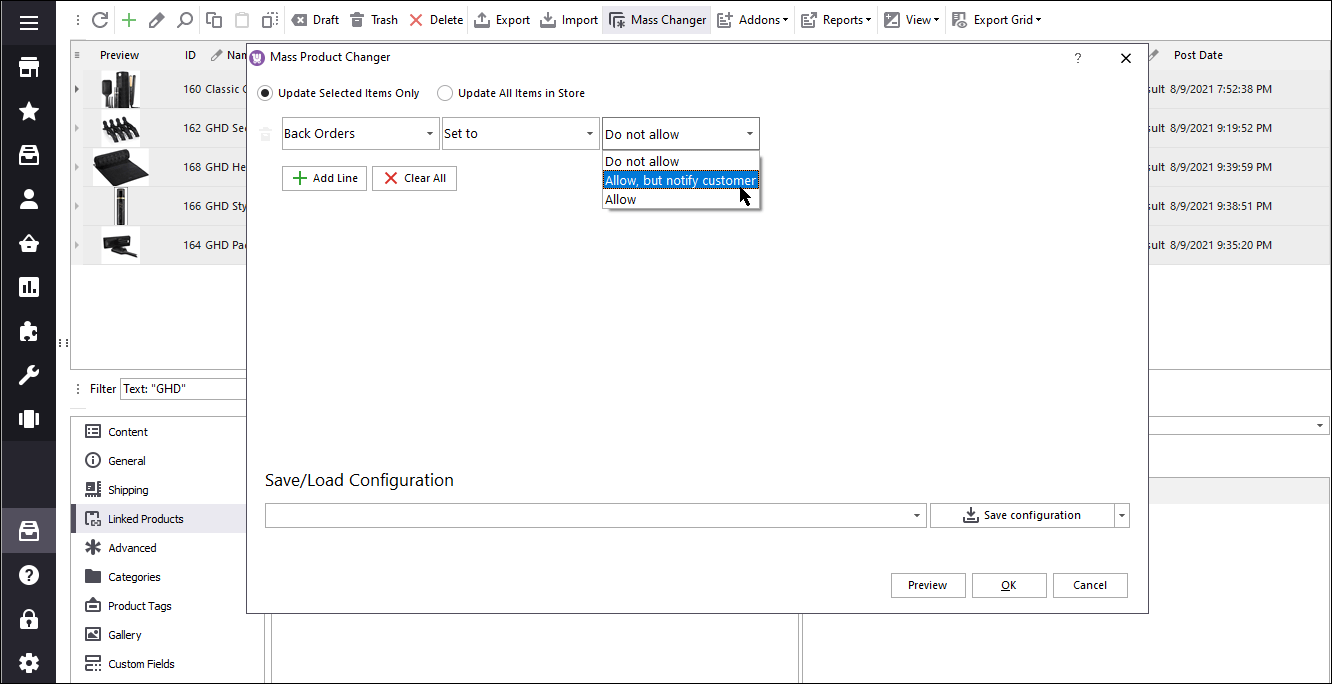 Sample 2. Bulk Update WooCommerce Price
WooCommerce product price update could evidently be determined as one of the most typical tasks in WooCommerce. Mass Product Changer is highly flexible in terms of WooCommerce bulk price update, since foresees price change by definite value (increasing/decreasing), by percentage value (increasing/decreasing) and offers to set some value, identical for all items you are renewing.
We use "Increase by %" action for update, since want to put up the price. Analogically we have to:
Select products to be updated and launch WooCommerce Mass Product Changer.
Expand the first dropdown and find Regular Price field, exactly the one that requires updating.
Move to actions dropdown and select "Increase by %" option there.



Regular Price Change via WooCommerce Mass Product Changer



Insert the value, regular price should be enhanced by (in our case 10%).



The Increase Price Value in WooCommerce Mass Changer



Preview changes to be implemented in Mass Product Changer.



Preview Changed Price via WooCommerce Mass Changer



Confirm bulk WooCommerce product update.
Find more tips on how to put WooCommerce products on sale.
Sample 3. Update Product SKU
This example demonstrates how to use "Replace" action for updates accomplishment in WooCommerce. Some listings in our catalog have "_yyy_" symbols in SKU. Our aim is to substitute these symbols with "_test_" for example. See, what we proceed with:
Open Mass Product Changer.
Check "Update All Items in Store" radio button, since there are lots of products and we do not know which exactly items have "VEND" in SKU.
Select "Replace Value" action in the following dropdown.
Paste text to be replaced in the following field.
Specify new text, the one that will appear in SKUs after bulk WooCommerce product update.



Modify SKU via WooCommerce Mass Changer



Accomplish update pressing OK button below in WooCommerce Mass Product Changer.
Read more on how to bulk replace data in WooCommerce via Store Manager
Sample 4. Add Product Short Description
At times there is a necessity to provide short description to products missing it. Mass Product Changer allows to compose short description via expression - special SQL statement. For example, unique short description will be created if we join product name, SKU and add "WooCommerce" word. Here is the scheme:
Choose necessary items and run Mass Product Changer.
Select Short Description as the field to be changed.
Move to "Actions" dropdown and select Expression option.
Press Expression Editor button and build formula applying which will return necessary value for Short Description field.



Expression Formula for WooCommerce Short Description Mass Update



Apply changes.
Sample 5. Set Sale Price
Whenever sale season is around the corner, you are usually getting ready with discounts. This sample is just for you. Sale price configuring takes seconds with WooCommerce Mass Product Changer.
Select the items to assign sale price to and open Mass Product Changer.
Choose "Sale Price" field from the dropdown.
Choose "Use Expression" in the action dropdown.
Insert expression to fill sale price for selected WooCommerce products.



Set Sale Price With WooCommerce Mass Changer



Save changes to get sale price applied in Mass Product Changer.
Mass Product Changer makes bulk updates more approachable and convenient, since it allows to update any product related fields or even customize changes creating expressions.
Implement Bulk Updates to WooCommerce Products via Mass Product Changer FREE
Get It Now
COMMENTS