Date:
2018-10-16
Modified:
2023-02-17
How to Export WooCommerce Products By Category?
Sometimes, the possibility to export WooCommerce products by category to .csv seems to be essential. It can save so much time and efforts as you don't have to search among the exported products the ones related to specific category manually.
By now, WooCommerce admin does not support such feature, so WooCommerce merchants resort to using some special modules or applications.
In this article, we will show you how to export WooCommerce goods from specific category to .csv in few clicks using Store Manager for WooCommerce application.
How to Export WooCommerce Products by Category?
Go to Catalog => Products & Categories
Find Filter drop-down menu and select 'Filter by selected category' or 'Filter by selected category and nested categories' depending on what you need.



Filter by Selected Category in Store Manager for WooCommerce Product Export



If you press 'Export' button, there will appear Export Wizard containing 4 stages.



Export WooCommerce Products by Selected Category Buttons



On the first step specify the place to save the export file to by pressing the browse button.



Save Exported WooCommerce Products to the CSV File



On the second step select the delimiter that will be used to separate fields data and check quote string values box (recommended).



Export WooCommerce Products File Delimiters



On the next stage select the fields to be exported by simply double-clicking on them or using the right-pointing arrow. If you want the export file to contain all the fields, use the double right-pointing arrow. You can also use expression editor to apply changes to your product updates.



Selection of WooCommerce Product Fields for Export



On the last step of configuration confirm what records should be exported (all records or selected ones) and press 'Export'.



Export All or Selected WooCommerce Products by Category



Preview the file and check if the data is properly formatted. Select the action to be performed after the export will be completed:
Nothing
Open directory containing result file
Open result file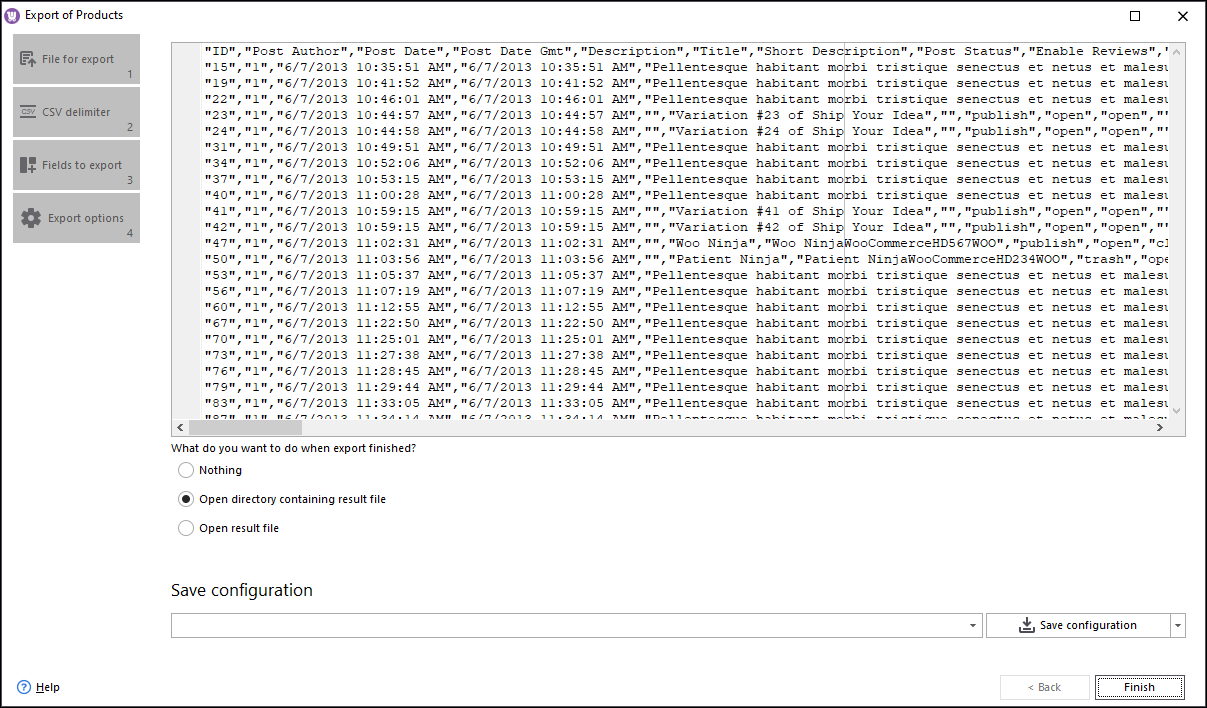 If you want, you can save the configuration and use it when performing the next product exports.
Now when you have WooCommerce products exported by category, you can modify them and import back to the store. You can find instructions on performing WooCommerce CSV import and a .csv file sample in this article WooCommerce CSV Import.
Export WooCommerce productds by category for 14 days free Try now
Related Articles: