Date:
2018-10-08
Modified:
2023-05-23
How to Create WooCommerce Related Products
WooCommerce allows to link goods based on their relation, that is cross-sell, up-sell and related. The purpose of each type is generally the same, though there is some difference between them.
WooCommerce Related Products VS Cross-sells VS Up-sells
Related products are similar items that can be suggested for customers to widen their choice and let them make the decision more easily.
Cross-sell products are usually additional goods that can be purchased as supplements to the item chosen. For instance, a mouse can be a cross-sell variant for a keyboard. Such type of products is offered during the checkout.
Up-sell products are items of the same type as the primary product, though they are more expensive. By demonstrating the better quality or newer version of the up-sell you may encourage a client to spend more money.
How to Create WooCommerce Linked Products?
From WooCommerce admin go to 'Products' and select an item.
Scroll down to 'Product data' section and open 'Linked products' settings.



WooCommerce Related Products



Click on the 'Upsells' field and start typing the name of item you want to be among the up-sells. You may add as many products as you need.
WooComemrce cross-sell products are created the same way as up-sells.
In order to make WooCommerce related products displayed on a product page, you need to add identical tags to a range of goods you want to be related. Consequently, when viewing a product, a shopper will be offered to check other similar products that are tagged with the same words.
Adding Cross-Sells and Upsells to Multiple Products in Bulk
Download the free trial version of Store Manager for WooCommerce and connect it to your store database.
In Store Manager, go to "Catalog" to see your store products. Click an item or select several items. In the lower grid, switch to the 'Linked Products' tab.



Select the items to add linked products to



To add cross-sells or up-sells to the product, press 'Add' in the corresponding section. You will be transferred to the product search form where you can find and select the goods to be added as cross-sell or upsell products. Having added the linked products, press 'OK'



Search for products to link them



Press 'Apply' to enable the changes:



Apply the changes to link products



Let's check the Linked Products tab for all the products. As you can see, upsells were added to each of the selected products:
Do not forget to post data to web (press Ctrl+P) in order to have the changes published on your website.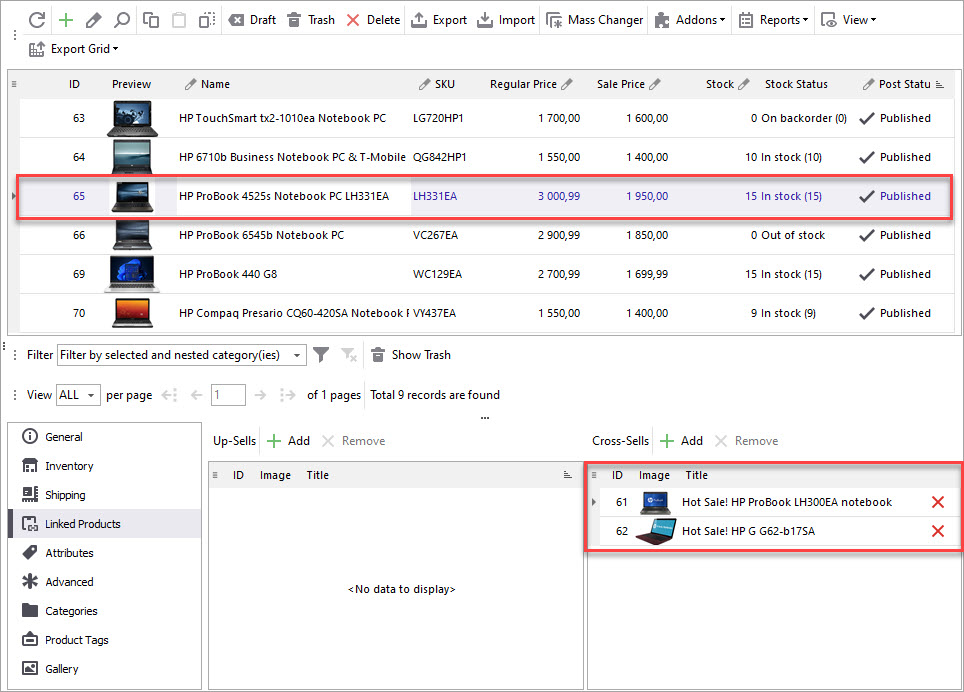 Showing customers related products, as swell as cross-selling and up-selling are very effective tools in increasing your sales, so be sure to apply them. Often, shoppers do not buy certain products, because they don't see them or are just too lazy to look for them. So try to always present linked items and make your customer buy more.
Create WooCommerce related products for 14 days free Try now
Related Articles: