Date:
2017-05-30
Modified:
2023-07-07
Creating and Managing WooCommerce Products
For any online store, products work as a backbone for its foundation, that is why WooCommerce products section is a place where you are going to spend the most of your time managing your shop.
WooCommerce Products Section
Let's dive into this section of WooCommerce to see how goods are managed there.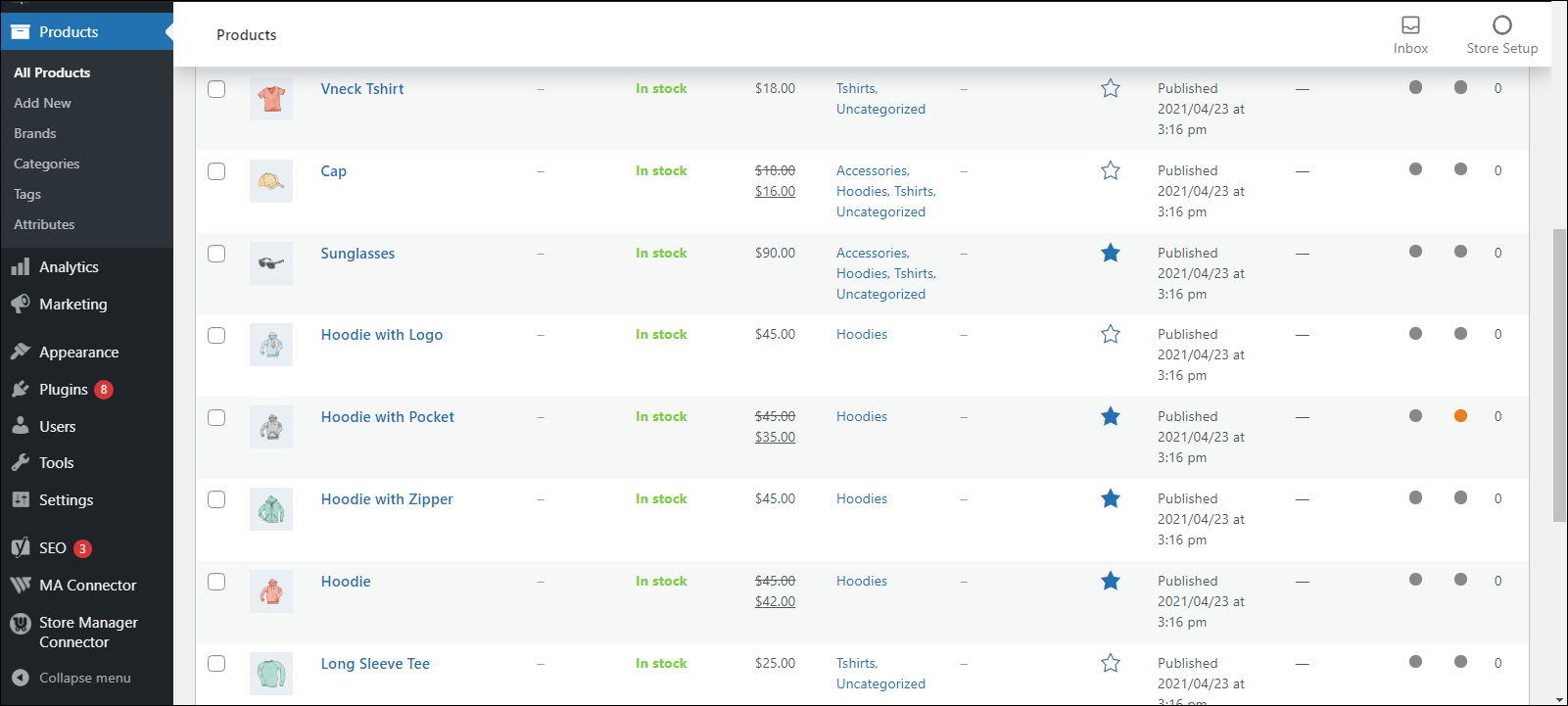 As you see, there you can view, edit, sort, delete or duplicate existing products and add new ones.
Would you like to access WooCommerce products, categories and associated information from one page without the need to wait till the page loads in the browser?
Try Store Manager for WooCommerce! This desktop application is a huge time-saver as it allows to make necessary catalog updates faster and without having to log into WooCommerce back-end!
Download 14-day FREE fully-functional trial!
Try Now!
Products Section of Store Manager for WooCommerce
Using Store Manager for WooCommerce, products can be added and maintained in much more efficient way.
If you go to Catalog -> Products section from software's navigation bar, on the left you will see category tree with nested categories and on the right - products you already have in your catalog.
One of the great things is that application allows to move through the category tree and see products belonging to each category.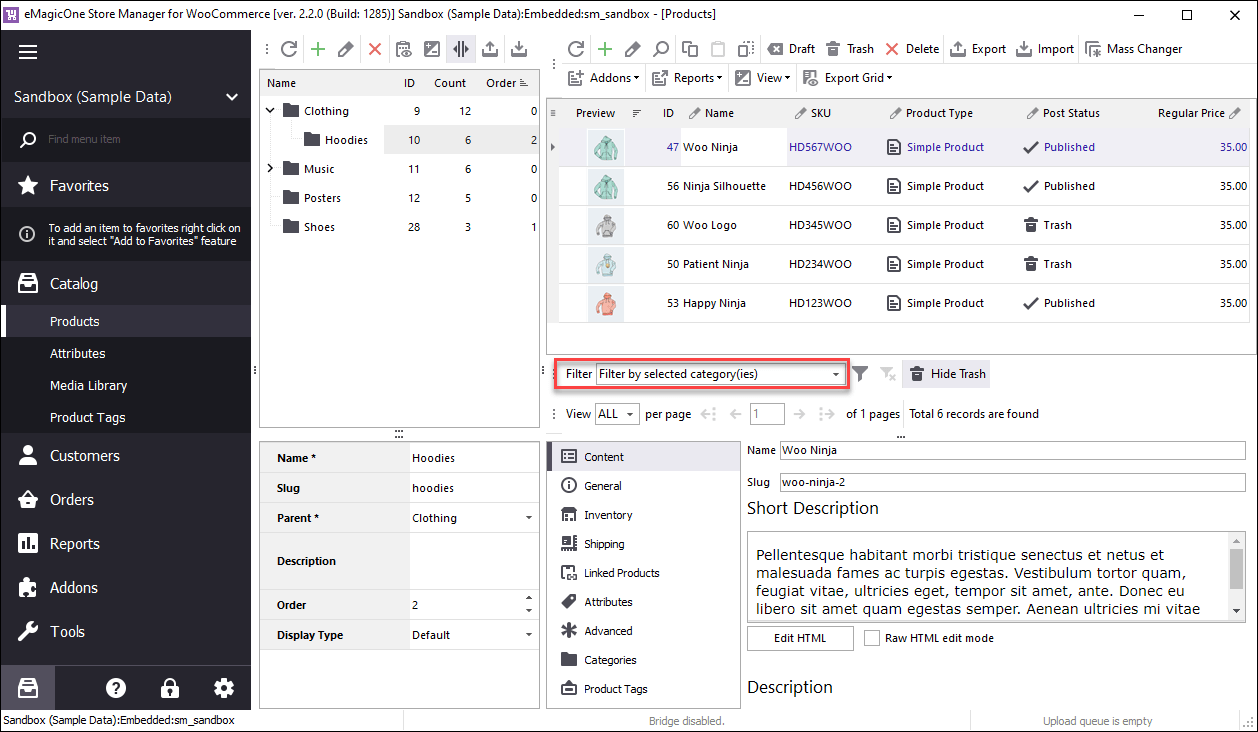 Moreover, moving up and down the product list you can view product details in catalog preview as well as in the tabs of lower grid. This way - there is no need to open each products edit form one-by-one to view or manage some data. This saves you time greatly as you do not have to browse different pages - everything is gathered in one place for your convenience.
Now, let's see what product management operations are available in Store Manager and what info on goods you sell can be added or edited here.
Manage WooCommerce Products
Store Manager for WooCommerce offers the set of operations you can perform to manage your products. They are presented in the form of buttons available on products toolbar or context menu (appearing after right-clicking at any product).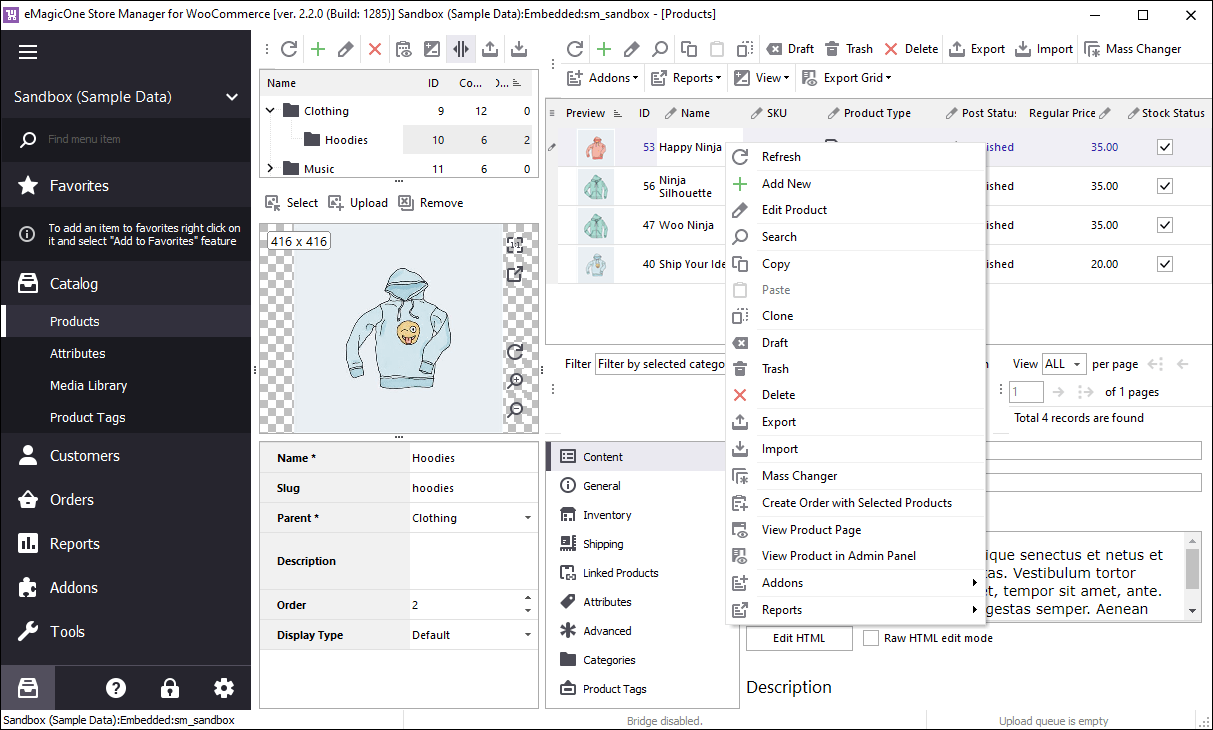 Here is an array of fundamental operations over WooCommerce products available in Store Manager and their detailed explanation:
Add New and Edit Existing Product
If you press such buttons as 'Add New Product' or 'Edit Product' if you have selected any from your catalog, in the lower grid you will see several tabs incorporated. There you can indicate new or update existing product associated details.
WooCommerce offers its clients the ability to create products of different types (read related tutorial), so their tabs and fields.
The main of them are: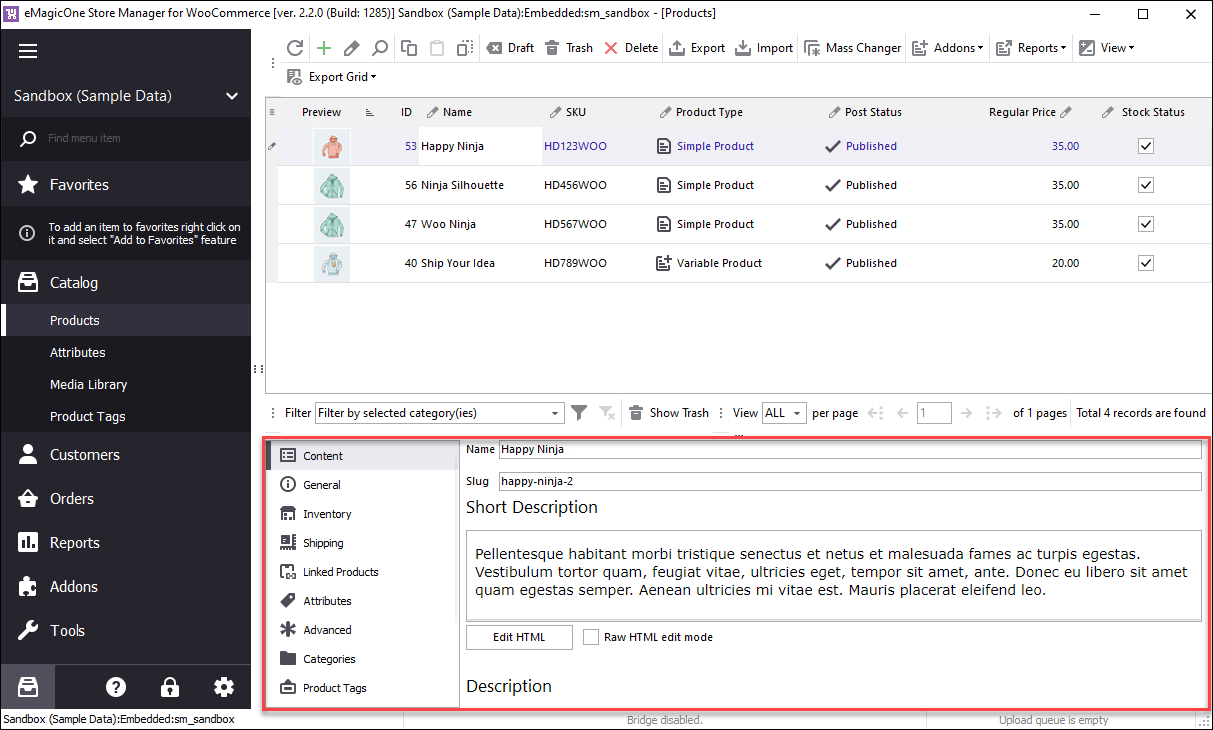 Content with fields: name, slug, description, short description etc
Product data with the following details: product type, stock, status, inventory, related products, attributes etc
Categories where you can view to what category product belongs or change its location within category tree
Product tags separated by comma
Gallery to manage product images
Custom fields
Reviews of customers
Change Product Status
Your WooCommerce products can have various statuses: published, draft, trash, pending and private.
In Store Manager you can select a bunch of necessary products and change status for them in one click.
These statuses can also be used for product filtering.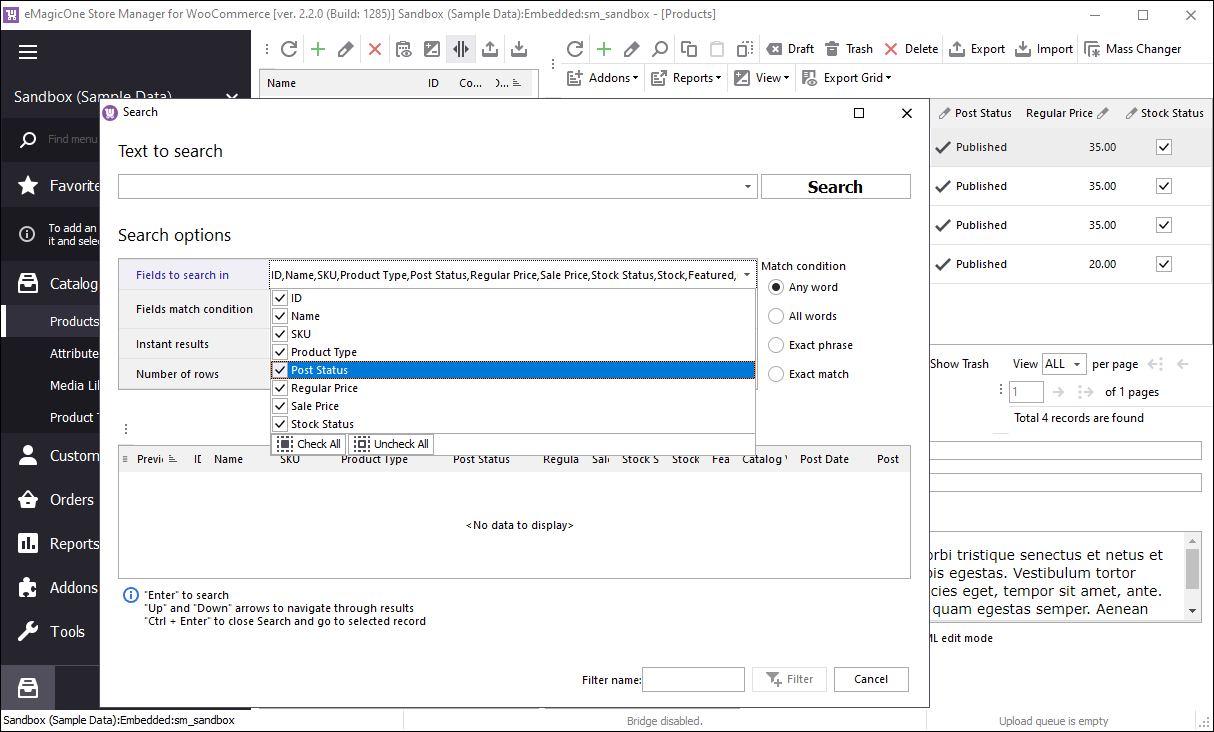 Delete Products Permanently
Store Manager also provides you the possibility to remove unnecessary items from the list completely.
You need to select goods you want to remove and press 'Delete' button. Please note, you will not be able to restore those goods as they will be lost.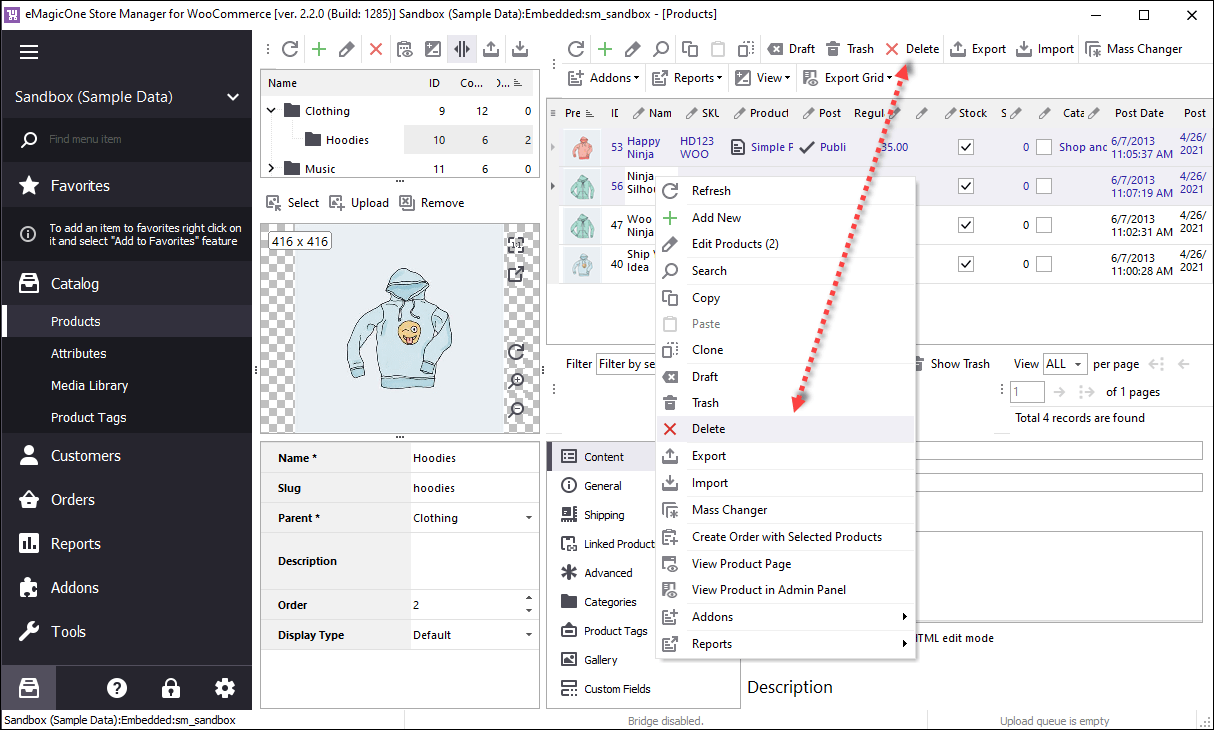 Search and Filter Goods
In Store Manager there is the list of pre-set filters available. You can also create your own custom filter that corresponds to your requirements. For that you can use column headings and search form.
For example, imagine you want to select your goods with regular price from $99 to $999. You need to click next to price column heading and select 'Custom'.
You need to specify criteria, namely - 'is greater than 99' and 'is less than $999'.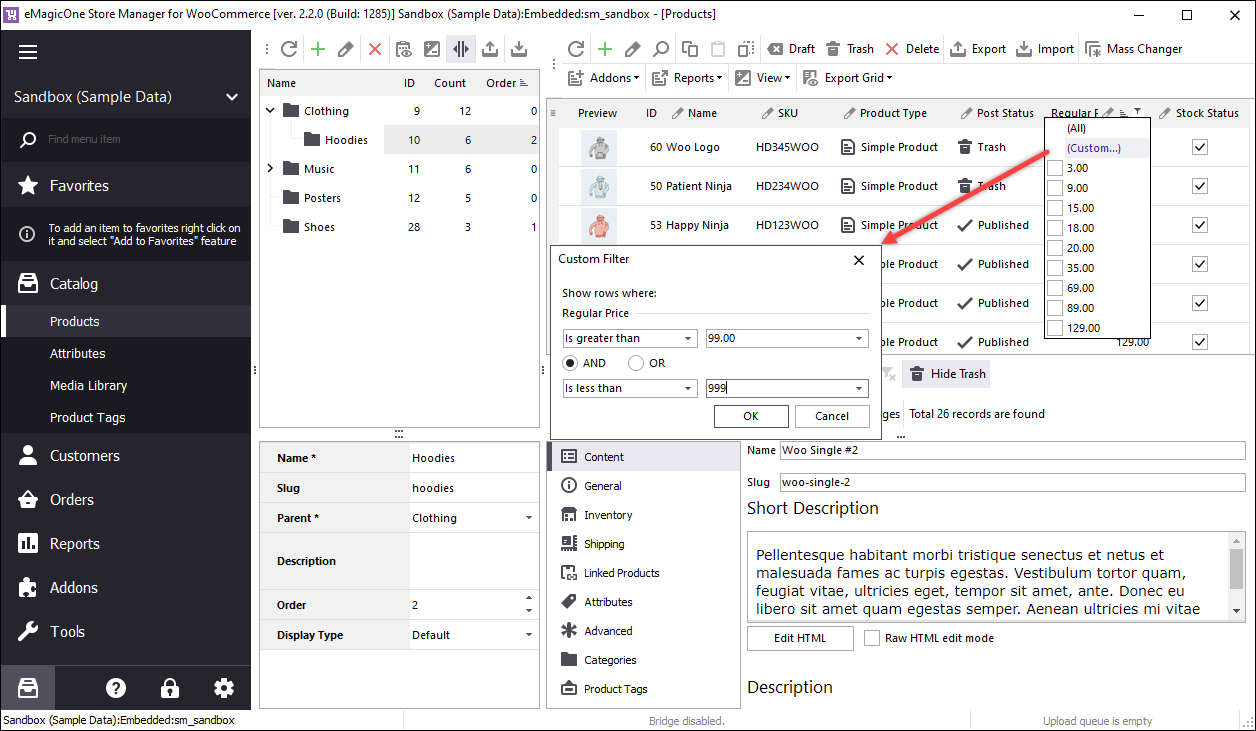 With the help of search form you can also find items matching your parameters. Moreover, this filter will be added to the list of redefined ones and you can access it anytime from the drop-down.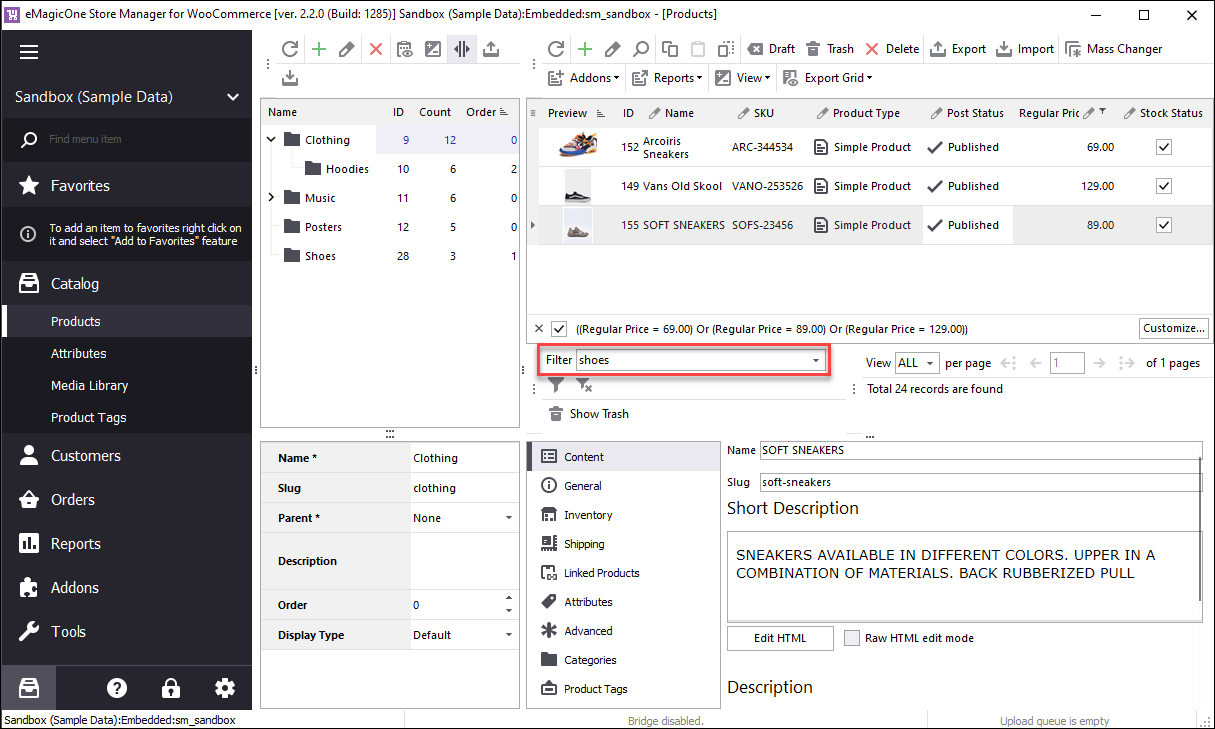 Further Reading on Filtering:
Perform Mass Changes
If you only want to make a few changes to a handful of WooCommerce products or less, individually editing your products might not be the route you want to take.
If you need to modify some details for selected products, you can use built-in Mass product Changer tool in Store Manager. It allows you to set price mark-ups or mark-downs, add or replace some values, perform complex modifications of existing data with the help of special expression formulas.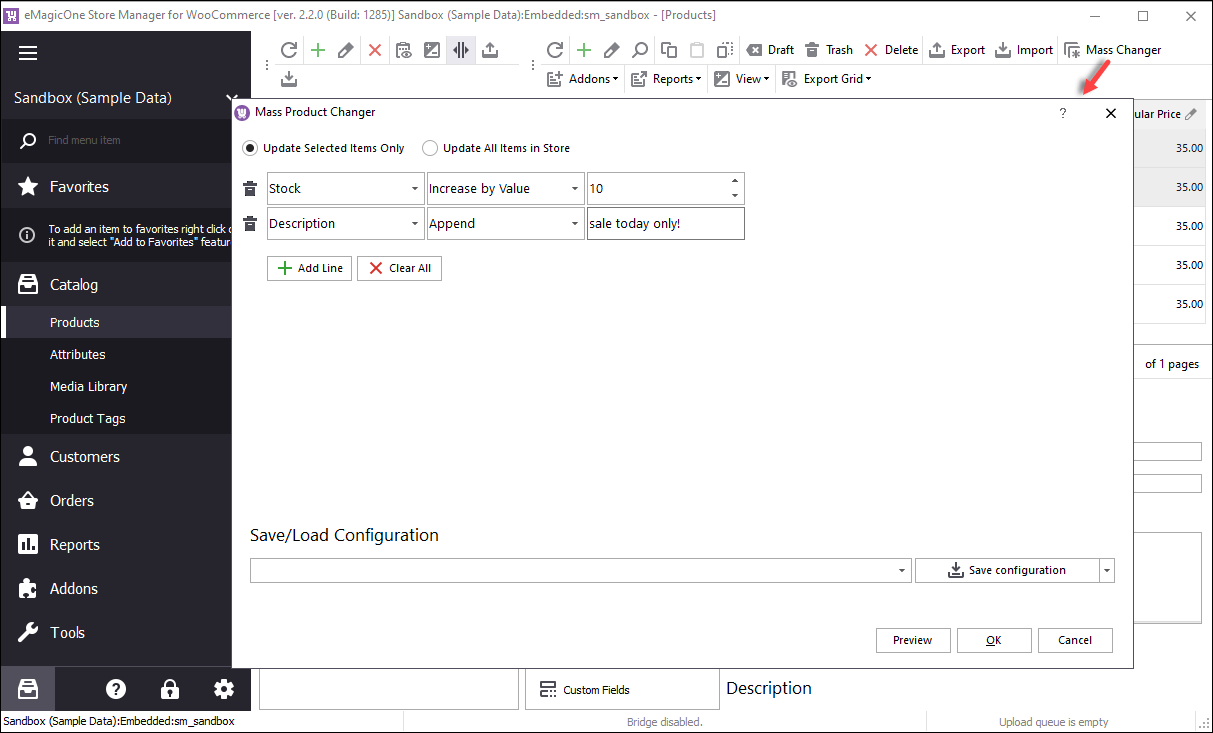 Read more how to use Mass Changer
Import / Export Data
Default WooCommerce does not offer the functionality allowing you to update your products in bulk using spreadsheets.
With Store Manager you can export data from WooCommerce to CSV, XML, XLS, XLSX, TXT and HTML files.
It also supports import from CSV, XML, XLS, XLSX, TXT and ODS files.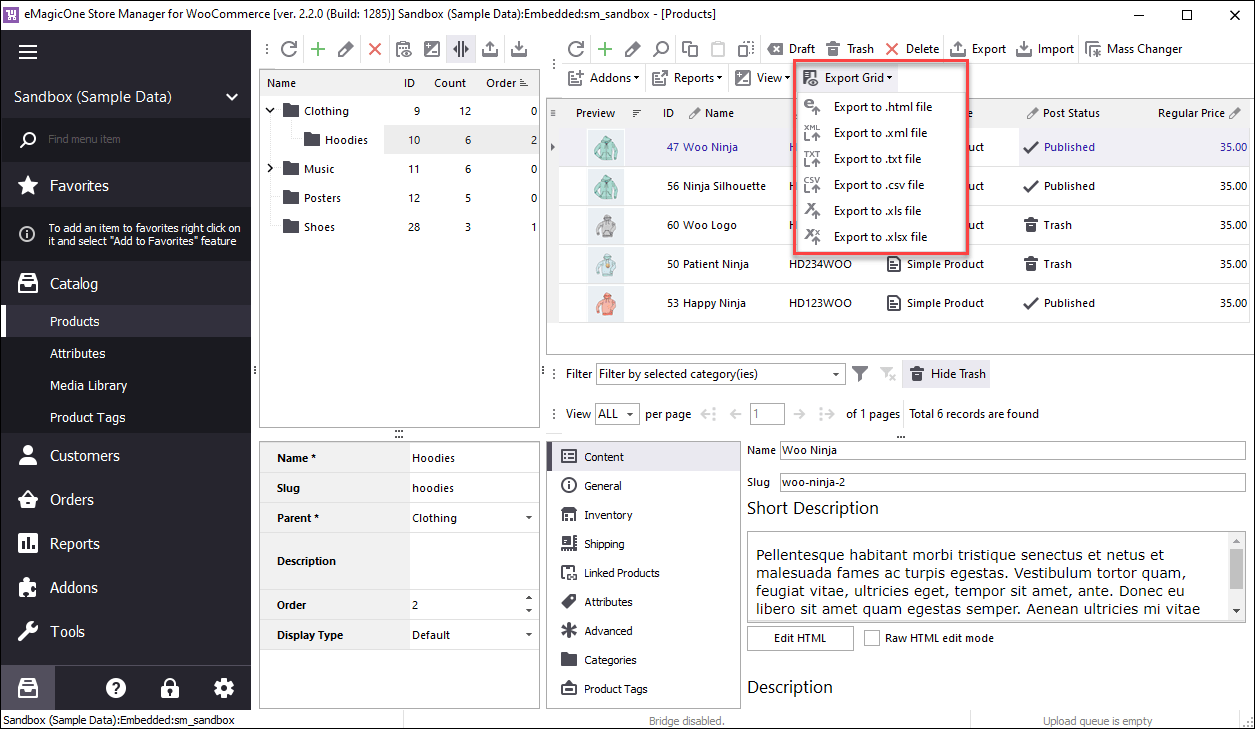 Detailed Tutorials:
View Created Products
After you have created the products and want to view the result at clients' side, there is no need to look for it manually in your catalog.
Simply right-click on the item and select 'View Product Page'.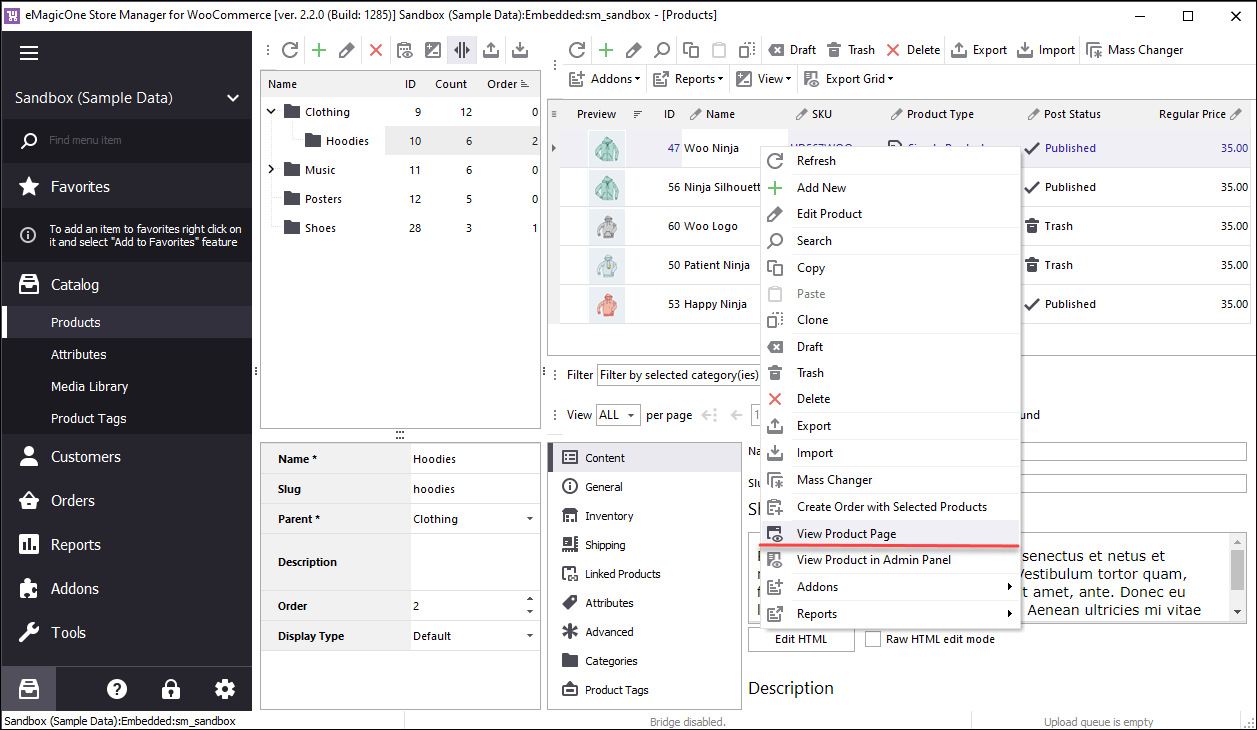 At this point your store is ready to sell. This post contains the links with more useful info, so check them out to get the better understanding how you can manage WooCommerce products.
Store owners are always looking for an easy way to manage and add products on their website. If you are among them, try Store Manager for WooCommerce and it will ease your daily management tasks.
Check how Store Manager works without any fees for 2 weeks!
FREE download
Related Articles: