Date:
2018-08-14
Modified:
2022-03-21
WooCommerce Product Tags Management
Product tags are descriptive labels placed on goods. Assigning a product tag to a bunch of products is another way to gather them into certain groups.
Tags can not only describe some of your product features, but also mark items as on sale or presented in new collection. Usually product tags are more specific than categories, so filtering goods via tags is very convenient for both shoppers and merchants.
How to Add WooCommerce Product Tag From Admin Side?
From the admin panel go to 'Products' => 'Tags';
Specify tag name, slug and description;
Press 'Add new tag' button.



New WooCommerce Product Tag Adding in the Admin



How to Attach a Tag to a Product?
When adding a new item to your WooCommerce catalog find 'Product Tags' grid on the right of 'Product data' configurations and if the tag is already added to the general tags list, start writing the name of the tag in the corresponding field and click on the found tag or add a new tag.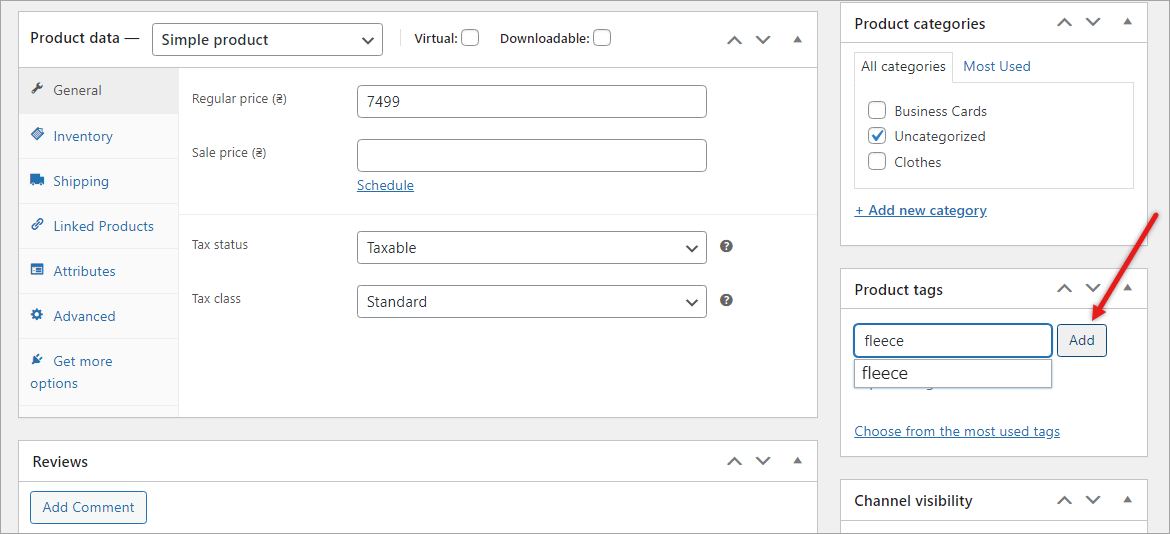 You can add as much tags to a product as you need. Though it is not recommended to add more than a few tags to your goods, as it may have a bad impact on your SEO.
How to Quickly Check What Tags Are Added to a Product?
Go to 'Catalog' => 'Tags';
Find the 'Count' column in the table containing the list of product tags and click on the displayed number.



WooCommerce Product Tag Count




How to Delete a Tag?

If you want to remove a tag, just hover over it in the list and press 'Delete' button.




WooCommerce Product Tag Deletion




In order to remove product tags in bulk, tick necessary tags and select 'Delete' action from the 'Bulk Actions' drop-down menu and tap 'Apply'.




WooCommerce Tags Deletion in Bulk




How to Add WooCommerce Tags via Store Manager?

Open the 'Store' tab and find 'Product Tags' section
Press 'Add New' button and fill the required details in the 'Edit' form on the right.




WooCommerce Product Tag Adding in Store Manager




You can also add a bunch of tags at one time using multiple tags adding option. Just input a few tags into the field separating them with a comma and press 'Add Multiple' button.

In order to add a tag to a particular product, double click on an item and scroll down to the edit grid. Open 'Product tags' tab and input the tag into the corresponding field. You can add more than one tag separating them with a comma.




WooCommerce Product Tag in the Lower Grid




Besides adding, editing and deleting WooCommerce tags, Store Manager also brings the possibility to export and import product tags data. You can find the options by going to 'Store' tab => 'Product Tags' section.




WooCommerce Product Tags Export and Import




Bearing in mind that these functions are unavailable in WooCommerce admin, Store Manager makes the product tags management centralized and convenient.

Product Tags And SEO

Product tags are also good for SEO. Taking into account that tags are very similar to search queries, web crawlers may use them to get some information about the content on your website. But make sure there are not too much tags on a page, because a search engine can consider it as keyword stuffing and take some penalizing measures.
Add, export and import WooCommerce product tags for 14 days free Try now
COMMENTS
Thierry Sanchez • 02/18/2022
hi!
I am using tags on my products page, but they are not displayed on the user end.
Do tags need to be displayed to help SEO or it doesn'tmatter? If so, is there an easy way (no coding) to display them?
WooCommerce Store Manager

Mod
Thierry Sanchez
• 03/03/2022