Date:
2018-11-19
Modified:
2022-12-02
Update WooCommerce Product Tags In Bulk
When talking about product promotion, using product tags is a truly advantageous tool. In one word, WooCommerce product tags are labels that are used to create relations between goods and help customers find necessary items. Correspondingly, this can considerably increase your sales.
In addition, product tags work good for SEO. Although, you should avoid putting too much tags on your product pages, otherwise Google might consider it as a try to cheat.
How to Update WooCommerce Tags in Mass
Managing product tags may be tedious if to update them manually. Store Manager brings a possibility to update WooCommerce product tags in mass using WooCommerce Product Tags Mass Changer.
Store Manager is a downloadable application that enhances the default functionality with tools for bulk edits, advanced import/export, database backup, data generation, and others.
If you don't have Store Manager yet, download a free trial and install it on your computer. Connect the application to your store database and enjoy the simplicity of your store administration.
Here are the steps to update WooCommerce product tags massively.
With Store Manager open, go to Menu > Catalog > Product Tags.



WooCommerce Product Tags in Store Manager



Highlight necessary tags and launch Mass Changer from the toolbar or using context menu.



WooCommerce Tags Mass Changer in Store Manager



Select the value you want to change (Name or Description) from the drop-down menu.
After choosing the value there will appear the next drop-down containing the list of actions that can be applied to the selected product tag value. They include: Set to, Replace, Append, Prepend, Use expression.



Mass Changer Actions for WooCommerce Product Tags




If you select the 'Use expression' action, press the 'Expression Editor' button to write queries.




Expression Formula for Mass WooCommerce Product Tags Change



You can add two lines (correspondingly to the number of values) by clicking the Add line button.
Specify whether to modify only highlighted items or all of product tags in your store by selecting a corresponding option on the Mass Changer dashboard.



All or Selected WooCommere Product Tags Update



Also, it is possible to save the configuration to file or to the Store Manager archive and use it next time.



Saving Mass WooCommerce Tags Change Configuration



When you are done with the updates, press Preview to check the difference between the old product tags values and the new ones.
To apply the changes, click OK.
Using Store Manager you can modify hundreds of product tags in few clicks. Just select tag value and the action to apply to it and press OK.
How to Update WooCommerce Product Tags via Import
There may be a situation when you have a file with product tags and want to update them via import. When you import products via Store Manager you can use an option What to do with product tags. There are two options you can choose from: Keep and update existing, add new prom file and Delete existing, add new from file.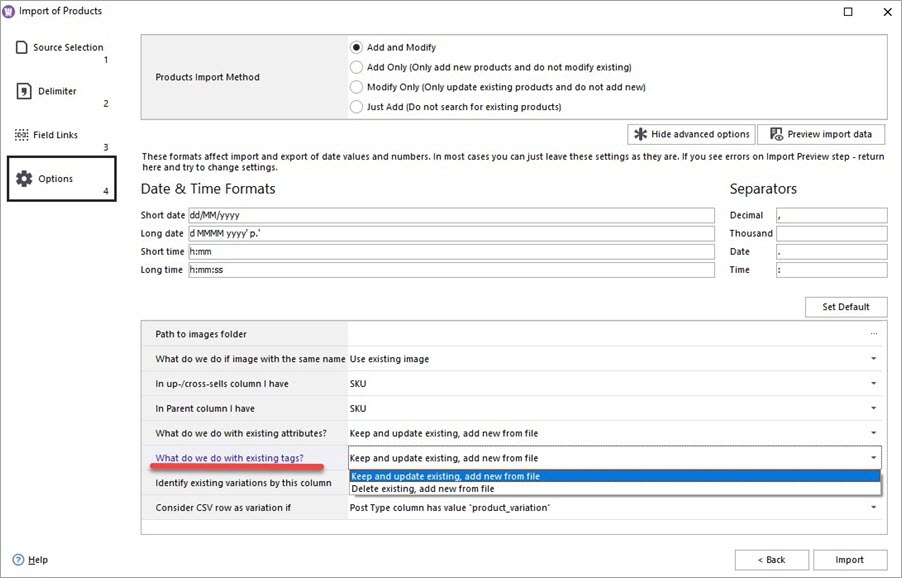 Update WooCommerce product tags in mass for 14 days FREE Try now
COMMENTS