Date:
2018-09-26
Modified:
2020-08-13
Manage WooCommerce Multi Store From One Location
Store Manager functionality allows to handle WooCommerce multi stores simply by switching between the store connections. You can use all possibilities provided by the application towards any of the connected databases (import/export products, categories, attribute sets, prices etc., manage orders, customers etc). In case you use addons functionalities, you can manage each of the eBay/Amazon/IceCat/LookBook integrations from one location.
In order to enable the management of more than one WooCommerce store from Store Manager, you need to configure each of the connections. After that, you will be able to switch between them in one click without any repeated configurations.
How to Add New Store Connection to Store Manager?
Open 'Preferences' by pressing F12 hotkey or find them in the 'Settings' tab.
Go to 'Database Connection' section.



Manage WooCommerce MultiStore From One Location



In the 'Store Configuration' settings find 'Add new store configuration' button and press it.



Manage WooCommerce MultiStore From One Location



Type the name of the new configuration and press 'OK'.



Manage WooCommerce MultiStore From One Location



Select the type of connection. There are five connection types available:
Direct connection
Direct connection through SSH
Direct connection through HTTP tunnel
PHP MySQL bridge connection
WooCommerce Store Manager Connector

Proceed to Database Connection settings. Enable the embedded database by checking the corresponding box or fill in the required data:
MySQL host
User name
Password
Database name

Now you can test the connection between Store Manager and your database. It is also possible to perform the database backup/restore right away.
How to Switch Between the Connections?
Open 'Settings' tab from the main toolbar and select 'Switch Connection' tool.



Manage WooCommerce MultiStore From One Location



Just click on the necessary connection and confirm you want to change the connection on the pop-up message.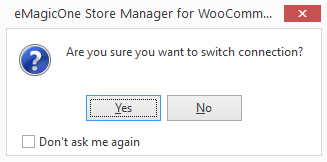 The possibility is extremely advantageous, as you don't have to get a separate Store Manager for each WooCommerce store. You can connect one application to a bunch of databases and switch between them in one click when necessary.
Try managing WooCommerce multi store for 14 days free Try now
Be the first to comment.
COMMENTS
Daoud • 07/145/2020
Je vous travaillez dans WordPress et woocomerce
WooCommerce Store Manager

Mod
Daoud
• 07/15/2020
Hello, Daoud!
Thank you for your comment.
Store Manager is intended to work with WooCommerce-based store. You can try how it works via the trial version available via "free download" or "try now" buttons available on this page.
If you have additional questions - let us know.